The price of AMD's current Ryzen 7 2700X continues to get slightly cheaper with Amazon listings at $290-$295, while Intel's upcoming Core i9-9900K sits up at a huge $530... 83% more expensive. It was only yesterday that I wrote it was 66% more expensive, but now that the 2700X has dropped in price slightly, the headline has changed.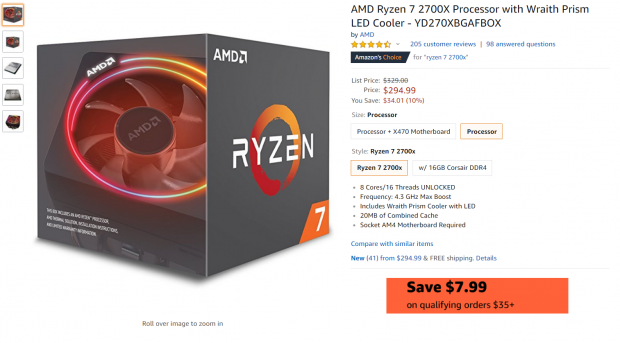 You can't buy the Ryzen 7 2700X until October 31 as it's out of stock at that price, but even Microcenter is offering the 2700X for $280. Considering the Core i5-8600K is $260, the Ryzen 7 2700X is offering some insane value for money at $290. Newegg has Intel's upcoming Core i9-9900K listed for an even more expensive $580... which is ridiculous.
AMD's current Ryzen 7 2700X at $290 (or so) means you can buy the CPU and a motherboard, and even some RAM for the cost of the 9900K. Sure, the 9900K might be the "best gaming CPU" but how many gamers really care about that when you're getting far better value for money from AMD? If you're buying a gaming machine and don't care about the cost then the Core i9-9900K is what you're going to buy, nothing will change your mind.
If you want the best, the 9900K is nearly ready for your hard earned dollars.