Xbox Game Pass attracts family households
Thanks to its easy subscription plan, sharing features, and online infrastructure, Microsoft's Xbox Game Pass is a hit among families.

Published Fri, Sep 28 2018 5:36 PM CDT
|
Updated Tue, Nov 3 2020 11:50 AM CST
According to analyst firm Newzoo, families are more likely to subscribe to services like Xbox Game Pass for a number of reasons: convenience, wide spectrum of games, saving money, and online multiplayer.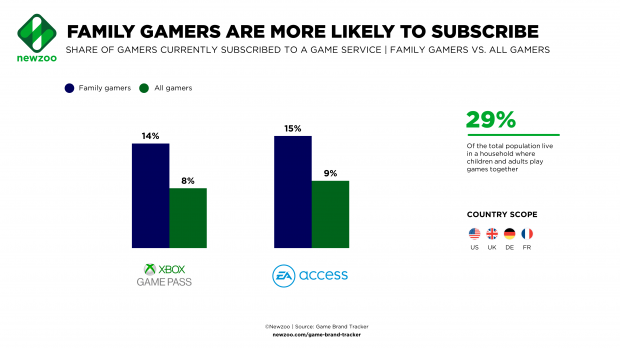 Microsoft's Xbox Game Pass has changed the industry. By offering access to over 100 different Xbox One and Xbox 360 games for $10 a month, including new first-party games, the company has reinforced its forward-thinking service plan and sparked competitors to do the same. Sony has changed its PS Now service to allow downloads, for example, and EA rolled out its new Origin Access Premiere subscription. But the kinds of gamers Game Pass attracts is also important...especially when it comes to big-spending gaming households.
Attracting families is always a goal for games-makers. Although families play games together, each member has their own tastes and households typically have more than one gaming system. Nintendo has nearly mastered the craft with its wide variety of games and interactive family-friendly content, but Microsoft has achieved similar results with Game Pass.
Analyst firm Newzoo reports that 14% of all families currently have Game Pass subscriptions versus 8% of regular gamers, which suggests a more dynamic and invested subscription plan specifically for families would raise this number even more.
Families are also more likely to buy into premium services like Xbox LIVE Gold and PlayStation Plus, both of which allow game sharing, family features, and online multiplayer which fosters unique engagement among household gamers.
Also remember Microsoft is working on a game-streaming service to further expand gaming accessibility. The service, which is still in early phases, will stream games to all devices including consoles, gaming PCs, and even mobile phones.
The company is also developing a special low-cost online-only Xbox console specifically for the service.
Publishers and hardware-makers almost assuredly know all of this already and will likely roll out different plans that are tailor-made for family gamers. But ultimately it shows that unique services like Game Pass that cast a wide net will attract households made up of diverse gaming habits and tastes.
Related Tags