Assassin's Creed: Odyssey's Atlantis DLC sounds amazing
Ubisoft takes us to Poseidon's gleaming city of silver as part of Odyssey's post-launch expansion content.

Published Thu, Sep 13 2018 6:31 PM CDT
|
Updated Tue, Nov 3 2020 11:50 AM CST
Ubisoft will release Odyssey's paid post-launch story expansions in pieces rather than all at once...and one of them takes us to the Silver City of Atlantis.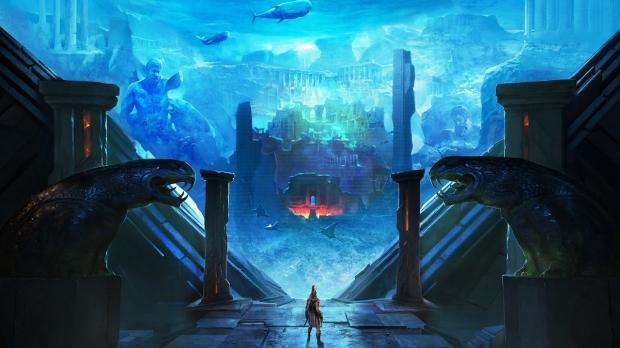 I've long wanted to visit Atlantis in an Assassin's Creed game, and hoped against hope Ubisoft's new ancient Greece-set Odyssey would do so. And now it's happening. One of Odyssey's new DLC expansions will take us to Atlantis and likely explore Plato's ancient myths surrounding Poseidon's sunken city of wonders; with so many legends around Atlantis, Ubisoft can have lots of fun and craft something really unique. The expansion is called The Fate of Atlantis and has a huge story arc that releases episodically in three chapters, following Ubisoft's new cadence. The chapters will release every six weeks. This is to ensure players are not only engaged for as long as possible, but gives devs enough time to craft huge storylines.
"Players will confront godly creatures and uncover the secrets of the legendary sunken city. In a surprising saga with many twists and turns, players will get even closer to Greek mythology and the First Civilization," said Odyssey game director Scott Phillips.
"This year our post-launch plans will give players more story content in a brand new episodic format. We're going to continuously provide new gameplay for players to look forward to. It's our most ambitious post-launch support ever for Assassin's Creed," Phillips continued.
Odyssey's season pass will include two major expansions, each with three episodes: Legacy of the First Blade, which tells the story of how the Assassin's were formed, and The Fate of Alantis, which takes us into the watery depths in search of ancient clues.
"Odyssey's first major piece of story-based post-launch content, Legacy of the First Blade, introduces players to the first person to ever use the Hidden Blade, forever altering history. Launching in December, Legacy of the First Blade will reveal more about the history that led to the formation of the Assassins.

"Then, in spring 2019, The Fate of Atlantis, the second story arc, will set players against mythic creatures while they uncover the mysteries of the fabled sunken city of Atlantis. Each story arc will launch as a series of episodic adventures, with new episodes releasing approximately every six weeks."
Even if you don't buy the pass, Ubisoft will still have extra content for you including random events, story missions, gear and more. Odyssey's free post-launch DLC will be wrapped in The Lost Tales of Ancient Greece, which essentially transforms the adventure into a live game of sorts that's continually updated with new and varying things to do.
"Those who don't pick up the Season Pass will still have access to additional post-launch content. The Lost Tales of Greece are free episodic stories that will release regularly between the larger post-launch episodes, providing a continual stream of new content to all players, with quests that feature new and familiar characters.

"Additionally, recurring in-game events will also be free for all players, and introduce new epic ships, mercenaries, and mythical creatures for players to take down each week. Lastly, Assassin's Creed Odyssey will receive a New Game Plus mode, which will bring new challenges and allow you to see how different choices affect your odyssey."
Odyssey's season pass content schedule looks like this: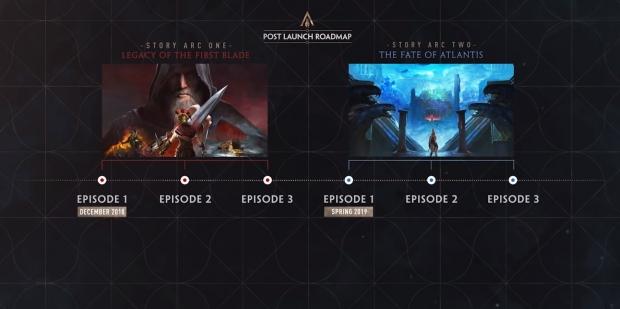 Assassin's Creed: Odyssey will release on October 5, 2018 on PS4, Xbox One and PC.
Related Tags