NVIDIA had one of the more exciting products of the year with its Big Format Gaming Displays, but the company has now delayed the upcoming BFGDs according to HW.info and sources of theirs in the form of hardware partners during Gamescom 2018 last week. BFGDs are reportedly now expected to drop in Q1 2019 which is still a few months away.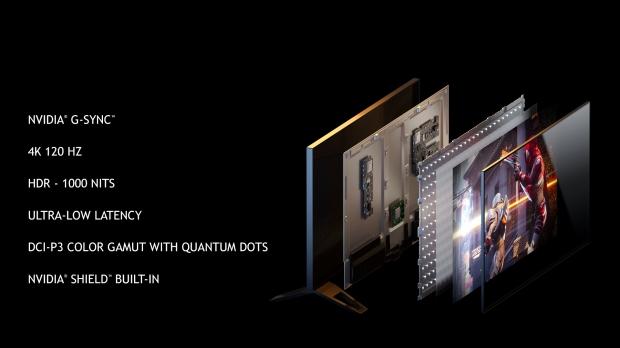 As for the price, the 65-inch 4K 120Hz HDR G-Sync BFGDs should be priced somewhere in the 4000-5000 EUR range which means we can expect a massive $4500-$6000. There's no exact pricing from NVIDIA or their monitor/TV partners on BFGD pricing, but that is very, very expensive.
However, a 65-inch 4K 120Hz panel wouldn't be cheap as all over 4K panels are maxing out at 60Hz. NVIDIA's upcoming Big Format Gaming Displays also feature a built-in NVIDIA Shield as well, but they're only worth a couple of hundred. The 4K 120Hz panel wouldn't be cheap, and I would say that the G-Sync module would be adding quite a lot to that price, it jacks the price of the new 27-inch 4K 144Hz HDR G-Sync panels up by a reported $500... so I imagine a huge first-of-its-kind TV would only see that cost skyrocket.