PlayStation VR sales break 3 million
Sony's PS4-powered VR headset moves an impressive volume of units.

Published Thu, Aug 16 2018 5:01 PM CDT
|
Updated Tue, Nov 3 2020 11:51 AM CST
Sony's PlayStation VR headset has broken 3 million sales worldwide, the company today announced.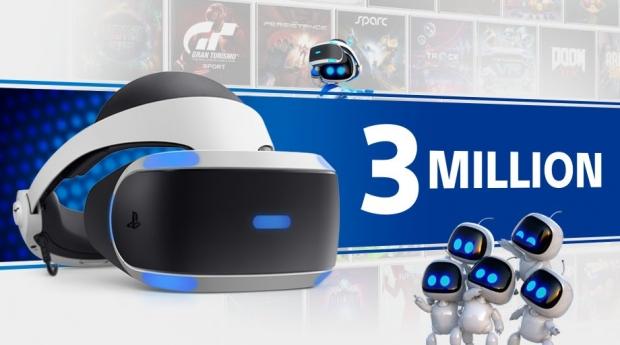 While console-powered headsets are better suited for VR gaming than dedicated PC-driven HMDs like the Oculus Rift and HTC Vive, the market is dominated by cheaper mobile VR headsets. Sony has still managed to steal quite a bit of VR hardware sales from its competitors and remains a dominant player in the space--case in point: the PSVR has sold 3 million headsets globally. The headset has done well insofar as unit sales since it was released in October 2016. Sony's PSVR topped 1 million sales as of June 2017, and as Twitter's Dom's Playing notes, hit 2 million units nearly a year after its release.
At the same time, however, the headset's attach rate remains rather low. Sony has shipped over 82 million PS4 consoles as of Q2'18, which means about 3.7% of all PS4 owners actually have a PSVR too.
It's also worth noting that the PSVR headset didn't have a strong impact on Sony's latest quarterly earnings. Along with peripheral sales like DualShock 4 controllers and PS Cameras, the PlayStation VR helped Sony's "other" sub-segment earn about ¥29 billion, or about 6.2% of total sales revenues for the quarter.
Despite the smaller attach rate and revenue impact, Sony is still invested in virtual reality and has helped usher in a new era of accessible VR gaming options. The games-maker plans to make new games for the system and help developers release their titles on the PS Store.
Sony is likely making a next-gen PSVR headset to accompany its powerful new PlayStation 5 console, which should release sometime in 2020 or thereabouts to coincide with PlayStation's 20th anniversary.
The company's new PS Move controller patents also strongly hint a new higher-end headset is on the way.
Related Tags