Scorn delayed, will now launch as full game
Scorn has been delayed past 2018, and the devs are offering refunds to anyone who wants them.

Published Sat, Aug 11 2018 4:30 PM CDT
|
Updated Tue, Nov 3 2020 11:51 AM CST
Scorn's first chapter has been delayed outside of 2018, but now the game will release as a complete package.
Originally slated to release its first part in October, Scorn has been pushed back to an undetermined release date, Ebb Software recently announced. The news follows a big investment the devs received to fund the game from an undisclosed source--something that's exceedingly helpful for any independent games maker.
"We managed to sign an excellent deal with the great investment fund and acquire additional funds for the development of Scorn," reads the announcement post. "The newly acquired resources will enable us to develop Scorn as intended from start to finish, the whole experience, not just the first part."
But there's a catch: Ebb Software's freaky Beksinski-Giger horror mashup is now TBD.
"Making the whole game is going to take more time. Scorn Part 1 of 2: Dasein will not be released this year.

"We know that some of you are going to be understandably disappointed as you were eagerly awaiting Scorn Part 1 of 2: Dasein in October 2018. And although we understand that, we still think that this new deal is the best course of action for us and ultimately the players as it will enable us to develop a better game. The upside is that you won't be left waiting on a cliffhanger for part 2.

"Now you will experience the game from start to finish, as intended, but at a later date that is yet to be announced."
Read Also: Scorn ignites the weird corners of our imaginations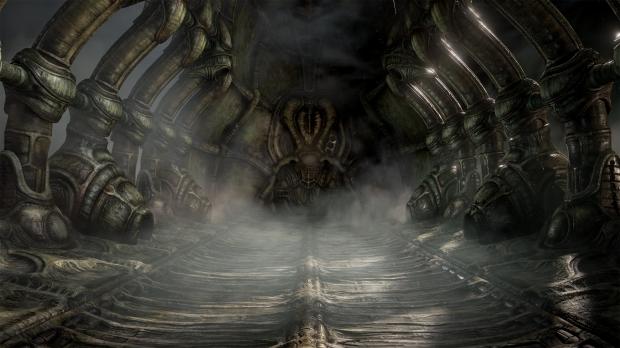 To make up for this disappointment, the devs are offering full refunds to any of the 5,600+ Kickstarter backers who want them. Scorn's first part, Daesin, raised a whopping €192,487 on Kickstarter and will of course miss its original launch.
Check more info about Scorn below:
Scorn is an atmospheric first-person horror adventure game set in a nightmarish universe of odd forms and somber tapestry.

It is designed around the idea of "being thrown into the world". Isolated and lost inside this dream-like world, you will explore different interconnected regions in a non-linear fashion. The unsettling environment is a character itself.

Every location contains its own theme (story), puzzles and characters that are integral in creating a cohesive world. Throughout the game you will open up new areas, acquire different skill sets, weapons, various items and try to comprehend the sights presented to you.

GAMEPLAY FEATURES

-Cohesive "lived-in" world - Scorn takes place in an open-ended world with different interconnected regions. Each region is a maze-like structure with various rooms and paths to discover. All the storytelling happens in-game, with no cut-scenes to distract you from the grisly reality of the living, breathing world you're in. But keep your eyes open - the game won't show you any sympathy if you miss something important on your uneasy travels. Everything has a reason and purpose - you just need to work out what it is.

-Full body awareness - Players will experience better immersion being aware of the character's body and movement. Interaction with the world is realistic - objects are picked up with your hands (instead of just floating in midair), machines and instruments are operated by grabbing the controls etc.

-Inventory and ammo management - is defined and limited. It plays a big role in keeping the player in an even greater state of awareness throughout the whole game. Players will have to think about when to fight and when to take cover and how their actions affect the world around them. Different play styles will be needed to advance.
Related Tags