It's official: AMD is kicking ass and taking names once again with the release of their second-gen Ryzen Threadripper CPUs with the flagship Ryzen Threadripper 2990WX coming in as a 32C/64T beast that has taken the Cinebench performance crown from Intel.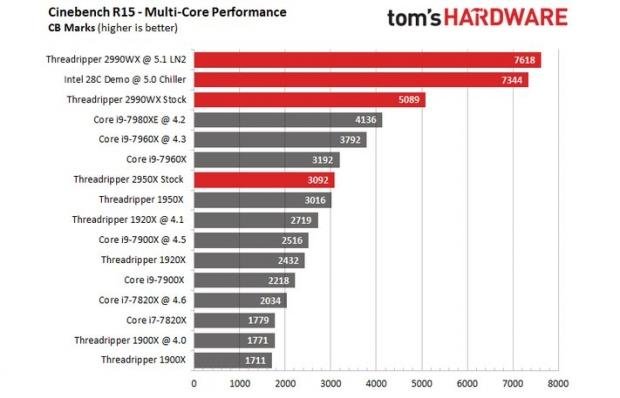 Until now, Intel's fastest Core i9-7980XE (18C/36T) at 4.2GHz scored 4136 in the multi-core test of Cinebench R15, while their prototype 28C/56T processor teased at Computex 2018 not even able to beat the Threadripper 2990WX when overclocked. The prototype 28C/56T chip when under a massive cooling system was pushed to 5GHz and scored 7344, but when the 2990WX is overclocked to 5.1GHz on LN2 it pushes a huge 7618.
AMD's new Ryzen Threadripper 2990WX is the flagship second-gen Threadripper CPU with 32C/64T of CPU performance, 250W TDP, 16MB of L2 cache, and 64MB of L3 cache. AMD is tapping quad-channel DDR4 on the second-gen Threadripper, with base CPU clocks of 3GHz and boost of 4GHz with Precision Boost Overdrive taking things up to 4.2GHz in single-core optimized workloads.
Ryzen Threadripper 2990WX: 32C/64T, 3.0/4.2GHz, 64MB L3/16MB L2 cache, 250W TDP - $1799
Ryzen Threadripper 2970WX: 24C/48T, 3.0/4.2GHz, 64MB L3/12MB L2 cache, 250W TDP - $1299
Ryzen Threadripper 2950WX: 16C/32T, 3.5/4.4GHz, 64MB L3/8MB L2 cache, 180W TDP - $899
Ryzen Threadripper 2920WX: 12C/24T, 3.5/4.3GHz, 64MB L3/6MB L2 cache, 180W TDP - $649