Bungie and its partnered studios are doing some very interesting things with Destiny 2--including total weapon slot customization.
Today saw the big reveal of Destiny 2's year two Forsaken expansion that promises to evolve the shooter's core mechanics. One of these changes that Forsaken brings is allowing players to switch between Destiny 1's and Destiny 2's weapon slot designations (one primary, one special, and one heavy weapon style loadouts will return)...but there's also a third option. A crazy option. Forsaken will let you use three power weapons at once--well three shotguns, anyway. Probably not rocket launchers.
"Hey, if you like Destiny 2, great, play that way. If you like Destiny 1, great, play that way. But if you're crazy, why not three shotguns? Just for the fun of it," said Bungie's sandbox design lead Josh Hamrick.
Bungie is also rolling back one of Destiny 2's biggest RNG upsets. Weapons are also getting fully randomized once more, meaning that 500th Better Devils you found may not utterly disappoint you. Randomized loot will add considerable replay and engagement value to Destiny 2, especially since Forsaken is adding a bunch of new weapons and armor along with a snazzy new sci-fi bow (the bow also has three varieties: short-, medium-, and long-ranged).
"Random rolls are coming back," said Greg Peng, senior sandbox designer at Bungie. "Every single weapon is going to feel different when it drops. And we're improving the mod system so you can customize your weapon the way you want it."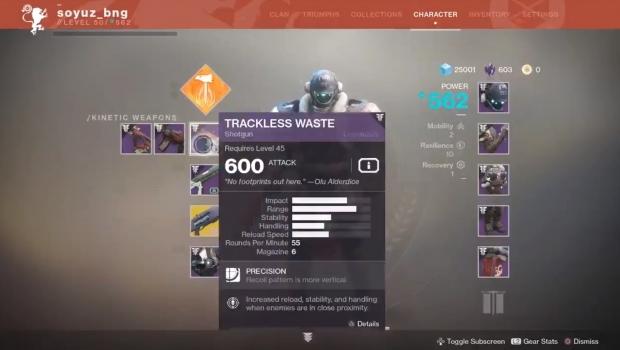 Apart from restoring the RNG grindfest action the first Destiny was known for and opening up weapon slots/mods, Bungie is throwing in a variation on its masterworks system. This could mean more catalysts that improve the weapons' or armors' effects.
"We've added a whole new Masterworks-style system coming together where you are actually able to kind of move your levels up over time, so there's investment back on the weapons again," Hamrick said.
Bungie also confirmed Year 2's Forsaken expansion will include the following changes:
Gear collections

In-game triumphs

Weapon slot changes

Weapon randomization

Mod system update

Bulk shader deletion

New crucible mode

4 new crucible maps

200 additional vault slots

In-game lore

New bounties

Power matters in Iron Banner and Trials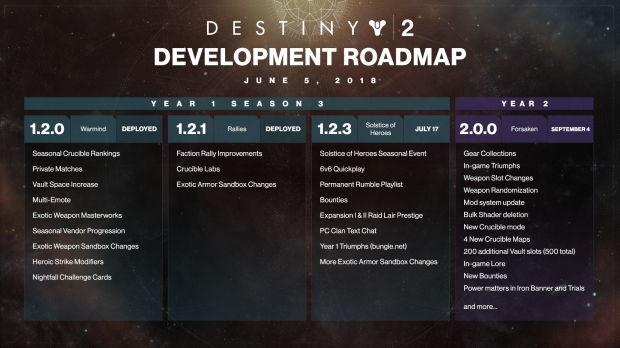 It's great to see Bungie and its partnered studios are taking Destiny 2's year two quite seriously and catering to the community. These changes should be quite welcome--especially the shader, weapons, supers, and endgame content. I foresee many more monetization opportunities with the overhauled modification system that should keep Activision happy, too.
Destiny 2's new Forsaken expansion launches September 4, 2018 for $39.99 on PS4, Xbox One and PC.
"Following years of strife, what remains of the Reef has fallen to lawlessness. You and Cayde-6 are sent to personally investigate the recent unrest. Upon arrival, you soon discover the most-wanted criminals in the Prison of Elders have organized an escape. Beyond the Vanguard's authority, you'll pursue these fugitives deep into the Reef. Explore new regions, awaken new powers, earn powerful weapons, and uncover long lost Awoken secrets. The hunt is on."
Hunt Down the 8 Barons and their Crew

Two New Destinations: The Tangled Shore and The Dreaming City

A Brand-New Raid

Introducing Gambit, a 4v4 Competitive PvE Mode

Wield New Powers with Nine Additional Supers

Collect New Exotic Weapons, Armor, and Gear

All-New Weapon Archetype, Legendary Bow

New Story Missions, Adventures, Destination Activities, and more