ASUS is giving away its best gaming monitor ever made, with the company making it super simple to win the ROG Swift PG27UQ, the new 4K 144Hz HDR G-Sync gaming monitor that you'll cry tears of joy over.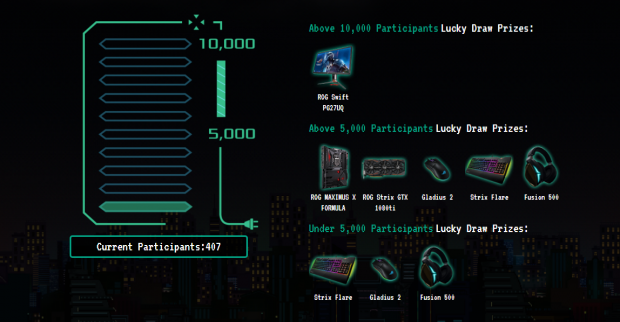 All you have to do is sign into their website with your social media account (Facebook or Twitter) and then create a post about why you need a ROG Swift PG27UQ using the #ROGSWIFTPG27UQ hashtag on Facebook, Instagram, or Twitter. ASUS makes it easy by letting you upload text, images, or video that then needs to be uploaded to their campaign page for you to be in the draw to win the insane ROG Swift PG27UQ.
There are plenty of other ASUS gaming goodies being given away, with the top prize requiring 10,000 participants to unlock the ROG Swift PG27UQ. There are lucky draw prizes that are kick ass on their own, such as the ASUS Strix Flare gaming keyboard, Gladius gaming mouse and Fusion 500 gaming headset.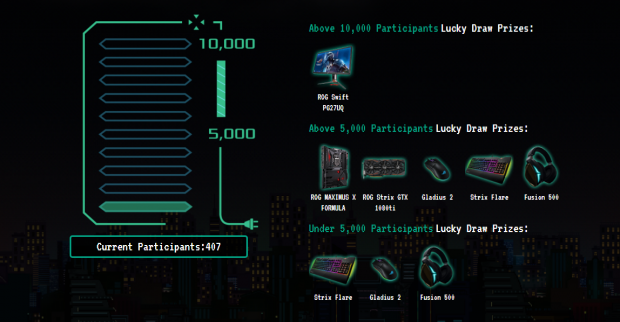 Above that, we have another set of Fusion 500/Strix Flare/Gladius 2 products to giveaway and a more delicious and required if you win that ROG Swift PG27UQ, with ASUS also giving away their ROG Strix GTX 1080 Ti and ROG Maximus X Formula motherboard.
Right now there's 407 participants, and I'm sure once this news spreads those participants will go through the roof. Enter now!