The worldwide games industry will rake in almost $140 billion this year, more than half will be driven by mobile gaming.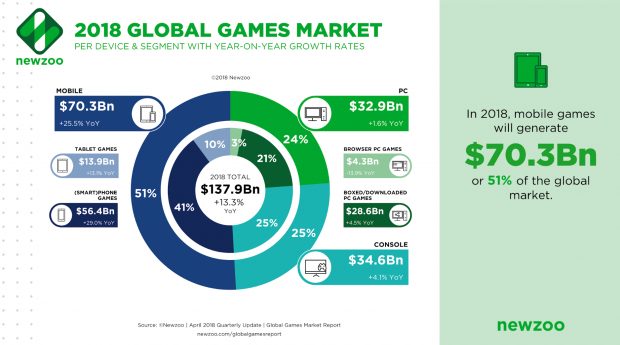 In its latest forecast report analyst firm Newzoo predicts that the global games market will reach $137.9 billion in 2018, up about 13.3% year-over-year. Given mobile gaming is expected to take in 51% of total revenues, and live service-powered games such as Fortnite are juggernaut engagement-churning moneymakers, digital will account for a massive 91% of the market, or $125.3 billion.
Once again mobile gaming will make the lion's share of 2018's gaming earnings: mobile should pull 51% of total market revenues, or $70.3 billion, up a mighty 25.5% from last year. Smartphone games will pull in 80% of these earnings whereas tablet games should rake in about $13.9 billion. Predictably enough, China dominates the market and helps drive lucrative mobile earnings with $37.9 billion in spending.
Console gaming will make up 25% of total earnings, or $34.6 billion, carried by digital/physical game sales and in-game spending across live games. PC gaming isn't far behind console, however: the PC market should make up a 24% slice of 2018's global revenues with $32.9 billion. Physical and digital PC games will take the lion's share with $28.6 billion whereas browser games shrink 13.9% YoY to $4.3 billion.
Mobile gaming is projected to only climb, so don't expect Tencent's titanic titles to go anywhere: by 2021 mobile gaming should reach 59% of the $180.1 billion economy.