SEGA and Capcom Humble Bundle discounts great games
Looking for a collection of great games for cheap? Humble Bundle has you covered.

Published Tue, Apr 24 2018 4:38 PM CDT
|
Updated Tue, Nov 3 2020 11:52 AM CST
As is usually the case, Humble Bundle has a great offering of yesteryear video games for the down low.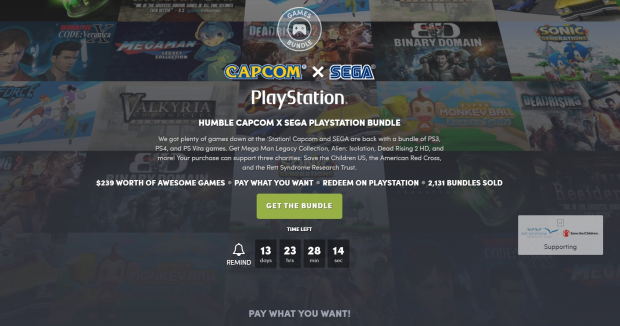 If you're like me then you've avoided a few games here and there--even great remasters like the original Resident Evil release on PS4. But thanks to the most recent Humble Bundle we can now jump into Capcom games like the Mega Man Legacy Collection, Resident Evil Code Veronica X, and even the incredibly atmospheric Alien Isolation from SEGA for a nice discounted price. There's only one catch: all of the codes are for PlayStation platforms (PS3, PS Vita, and PS4)--no Steam grabs here.
The sale ends in 13 days so be sure to grab the games while you can and support charity in the process.
A full list of available games can be found below:
Pay what you want:
Dead Rising

Dustforce

Crazy Taxi

Super Monkeyball Banana Splitz
Pay more than $10.51 to get:
Resident Evil HD Remastered

Mega Man Legdacy Collection

Resident Evil Code Veronica

Sonic Generations

Binary Domain

Alien: Isolation
Pay $15 or more to also unlock:
Dead Rising 2

Valkyria Chronicles Remastered
Related Tags