Battlegrounds has now sold over 18.6 million copies
Battlegrounds is getting really close to 20 million copies sold, consistent 2 million concurrent players day after day.

Published Nov 1, 2017 9:48 PM CDT
|
Updated Tue, Nov 3 2020 11:53 AM CST
Battlegrounds isn't stopping its momentum at all, with 18.6 million copies now sold - days after we reported PUBG reached 17 million sold. The game is still enjoying around 2 million playing it concurrently per day, which is absolutely mammoth.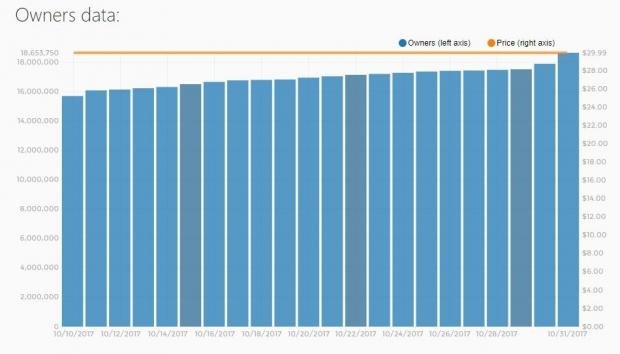 PUBG has also reached a new concurrent peak user count of a huge 2.38 million, but it has been holding steady at over 2 million per day for a few weeks now. Battlegrounds started October with around 1.6 million concurrent gamers, but has been slowly increasing throughout the month - also enjoying a minimum of over 200,000 gamers at all times playing for that coveted chicken dinner. Yummy.
We should expect vaulting and climbing to come to Battlegrounds soon, with test servers to get some vaulting and climbing matches under the developers' belt. As for PUBG v1.0, it's coming in the second half of December, just after the release of PlayerUnknown's Battlegrounds on the Xbox One on December 12, with series creator Brendan Greene saying he wants to see cross platform play between PC and Xbox One gamers in PUBG.
Related Tags