Battlefront II uses premium currency, prices revealed
That's no game, it's a pay-to-win scheme! Battlefront II's monetization includes premium currency that can be purchased with real money.

Published Thu, Oct 12 2017 1:49 PM CDT
|
Updated Tue, Nov 3 2020 11:53 AM CST
As I predicted weeks before official confirmation, Star Wars: Battlefront II will be monetized with its own premium currency that's sold for real money that allows players to buy in-game loot boxes.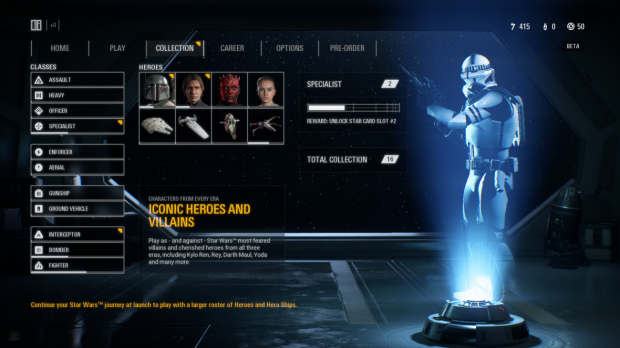 Battlefront II's monetization scheme has been heavily criticized for being "pay to win", but the writing was on the wall way before DICE and EA officially confirmed mTX was in. We've covered how EA makes billions from its online-based service games, especially from games like FIFA, and typically any time they discuss non season-pass approaches to service games that means heavy lootbox-style pay-to-win monetization. Futhermore, all post-release DLC and content for Battlefront II will be free, which is another huge clue of loot box mTX monetization. Now thanks to a recent Amazon leak, we know how much gamers will pay for Battlefront II's premium currency.
The game's premium currency is called "crystals", and if you played the beta you likely saw the icon in the upper right between credits and crafting parts. Crystals will be sold at tiers ranging from $5 for 500 crystals to $100 for 12,000 crystals. The exact crystals-to-lootbox exchange rate remains unknown at this time, and we probably won't see that until the game drops in November. Expect to spend crystals on everything from lootboxes to crafting parts.
I recently wrote that Battlefront II is extremely addicting, and its progression system has layers upon layers of addictive content that's predicated on hooking gamers. This shouldn't come as a surprise--this is how service games operate, after all, especially since their success is ultimately predicated on engaging players and monetization that engagement. EA are masters at both monetization and engagement, and we still don't know how much was spent on Battlefront II's development. Remember the game has considerable upgrades from the first game, including a fully-fledged singleplayer campaign, offline split-screen play, and a massive rollout of modes that span multiple eras.
As Euorgamer said, this might be a case of being careful what we wish for. When we tell EA we want free DLC, offline singleplayer, and tons of modes, the company formulates a long-term monetization strategy that will not only pay for but facilitate further updates and content. And I saw this coming...but no one can predict how intrusive monetization strategies will ultimately be.
Related Tags