Microsoft's new high-end $499 Xbox One X is tailor-made for the 4K television market, and the company has been approached by various display-makers in bids to usher in the new jump for the 4K TV market.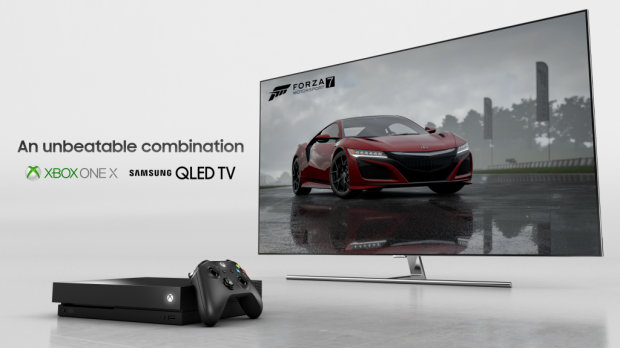 With the PlayStation 4 Pro and the new Xbox One X, Both Sony and Microsoft are doing their part to help catalyze the 4K UHDTV market. But this push can't happen without the support of OEMs like Samsung, LG, and even Sony who are indeed helping the resolution revolution with their own range of higher-end premium 4K television sets. Microsoft exec Albert Penello is confident that the Xbox One X will help drive the momentum of 4K TV adoption, and in a few years, it'll be the main choice for the games industry. Then again, 4K is something you have to see to believe, which means the console and display industry have to come together in a symbiotic to adequately showcase and market their products.
"It's been an interesting marketing challenge," Penello said in a recent interview with MCVUK. "We have momentum on our side, which helps. The majority of TVs sold this year will be 4K TVs, there are all kind of analysts reports, and within the next few years everything will be 4K. So it's coming, in terms of retail of displays."
In fact, Samsung recently partnered with Microsoft for this very reason. Samsung's premium QLED 4K UHDTVs are now the official home of the Xbox One X, and we'll see more unique partnerships like this arise as OEMs start integrating FreeSync 2 and HDMI 2.1 into their television sets to enable enthusiast console gaming experiences.
"There's a mutual benefit. They need the content to drive uptake, so they are asking us how they can demo Xbox One X on their TVs, as they want to sell those TVs."
As for the adoption rate of 4K displays, analyst firm Futuresource notes that the momentum of the new standard is rising. 4K UHDTVs made up 25% of all televisions sold in 2016, FutureSource reports, and the adoption of 4K TVs is expected to rise 38% in 2017 to account for more than a third of all TVs sold. FutureSource also projects that total Xbox One game sales are expected to rise by 17% to 70 million throughout 2017 with the bulk of game sales happening in Q4 to coincide with the Xbox One X's launch.
Research firm IHS Markit, however, says that the Xbox One X tailors to a smaller market, and the jump from 1080p to 4K isn't as monumental as the leap from SD to HD.
"Xbox One X is an expensive system designed to appeal to a fairly narrow demographic of gamers who want high quality graphics but do not want to spend money on a high-end PC," said DFC analyst David Cole.
"The challenge is that is a fairly small addressable market, even as sales of 4K television sets start to soar. Both the Nintendo Switch or Sony PlayStation 4 offer a very strong value proposition that consumers seem to be flocking towards."
"Furthermore, the leap from 1080 to 4K resolution is simply not as revolutionary as the previous movement from standard definition to high definition."
IHS Markit predicts the Xbox One family of consoles will reach 67 million units sold by 2021, whereas Sony's PlayStation 4 is nearing that mark this year.