Monolith Productions has made good on its promise to make Shadow of War's lootboxes 100% optional, but this balancing act throws the progression off-kilter--and the game constantly tries to tempt players with buying lootboxes at every turn.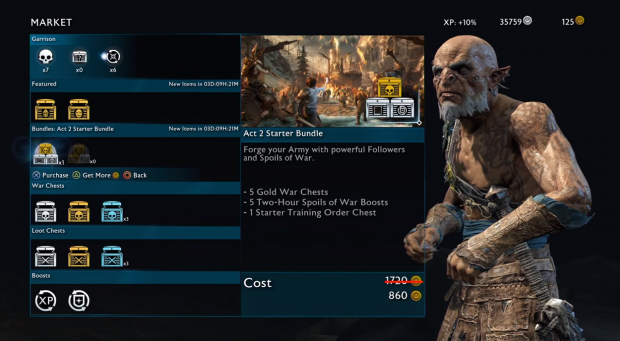 According to Eurogamer's Shadow of War review, the game showers you with enough loot, exp and content to make buying War Chests pretty much unnecessary. This echos previous words said by game director Bob Roberts just days ago: "In the game you earn resources at a regular pace and the systems are tuned to that so you don't need another option. At the same time, it's there as a player choice," he said.
But there's actually a problem with the game showering you with content left and right: it makes the game too easy, and you can become too powerful too fast. That's why the difficulty slider was put in--yet another balancing act to offset the affect of lootboxes, balances upon balances to ensure the game didn't become overwhelmed by frustrated gamers and get bad press. There's also another problem: although War Chests are totally optional, the game tries to tempt you every time you pause the game. With every pause, a carousel pops up to remind you that yes, you can spend real money on Gold to buy War Chests and further your adventures in the land of Middle-earth.
Other than the microtransactions and the weird story, reviews praise Shadow of War's mechanics and overall robust features. And as a reported and industry fan I understand why microtransactions were even put in the game--live service games are the future of the industry, and full game sales aren't enough any more--even PUBG, who's sold a ridiculous 10 million + copies, will put microtransactions in to fund future development (albeit cosmetic). WB Games says that it spent more marketing cash on Shadow of War than any other game in its history, and that says a lot: Monolith and WB Games have put significant effort into this title, and to ensure the game has a long, long tail, the publisher put in long-term revenue padding in the form of lootboxes. This will ensure that Shadow of War continually updates over time with new content and changes instead of staying static as a singleplayer game.
We've yet to formally investigate Shadow of War, but keep a look out for more coverage once the game is released and when we can get our hands-on the title.