$150 copy of NBA 2K18 costs half of Switch console price
2K Games is selling a digital copy of NBA 2K18 that literally costs 50% of the Switch's MSRP.

Published Wed, Sep 20 2017 6:29 PM CDT
|
Updated Tue, Nov 3 2020 11:54 AM CST
2K Games is selling a $150 copy of NBA 2K 18 on the Nintendo Switch...which is half of the console's asking cost. Yes, really.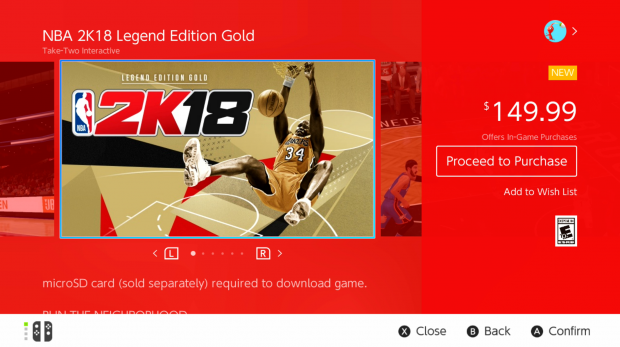 In today's industry the gaming world is inundated with expensive collector's editions, pre-order bonuses, season passes, and over-priced digital deluxe special edition gold-platinum mega editions, publishers it seems games-makers are all too eager to sell you anything but the base $59.99 copy of the game. One such explosively expensive digital version has popped up on the Nintendo Switch's eShop and is asking gamers to spend $150--or 50% of the Switch's $299 price tag--on a single game: NBA 2K18.
The NBA 2K18 Legend Edition Gold version costs a staggering $150, easily making it the most expensive game on the Switch's eShop. Yes, this kind of thing has invaded the Switch too--no longer is it the last bastion of hope against crazy expensive video game temptations. A quick cursory search showed that there are currently no other digital deluxe versions of games available on the Switch storefront. So what do you get if you spend $150 on this edition? 250,000 VC, which are units to spend on the game's massively lucrative microtransaction packs, 40 MyTEAM Packs--what you spend VC on--that are only doled out once a week, and a bunch of in-game digital jerseys and shoes.
Yes, really.
For $150, the digital NBA 2K18 Legend Edition Gold gives you:
250,000 VC

40 MyTEAM Packs to build your perfect fantasy team (delivered one a week). Featuring a guaranteed Shaq card, one random Team 2K Free Agent card, and more!

Shaq Attaq shoes

Rookie Shaq jersey

Shaq Official Logo shirt

Shaq "nickname" jersey

Shaq Championship ring

Mitchell & Ness Shaq jersey collection - 5 in total

Kyrie Irving MyPlayer Apparel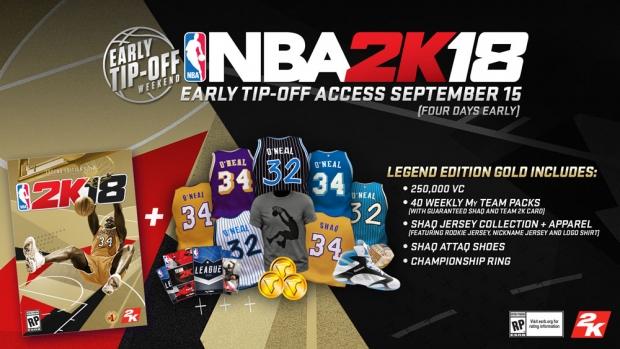 I'm surprised that this version showed up on the Nintendo Switch, but remember one of the biggest reasons that Take-Two Interactive is bringing NBA 2K18 to the Switch at all is to test its monetization appeal. The publisher is testing the waters by bringing its most lucrative annualized sports franchise to the platform, and is keen on seeing how Switch gamers will spend on VC and MyTEAM packs.
Take-Two Interactive, the parent company of 2K Games, typically makes half a billion dollars every year on microtransactions from games like NBA 2K and Grand Theft Auto Online. For instance, during its fiscal Q1'18 financial period, the company raked in $171.468 million in recurrent consumer spending in the period, up a mighty 71% year-over-year, and representing over half of the company's digital net sales.
Don't forget that NBA 2K18 is the first Nintendo Switch game to require a microSD card even if you buy the physical cartridge version. This strongly indicates that 2K Games purchased the cheaper 16GB Nintendo Switch cartridges for NBA 2K18, thus ensuring the 22.9GB game wouldn't fit on a single cart.
Industry trends indicate Nintendo charges a premium for higher capacity Switch GameCard cartridges, especially the bigger 32GB versions, so don't be surprised if more publishers split games up between microSD and carts.
Related Tags