Digital drives big quarterly earnings for Take-Two
Take-Two Interactive continues raking in massive revenues from Grand Theft Auto Online's microtransactions.
Published
3 minutes & 26 seconds read time
Take-Two Interactive starts its new fiscal year with big earnings across the board thanks to Grand Theft Auto Online and NBA 2K.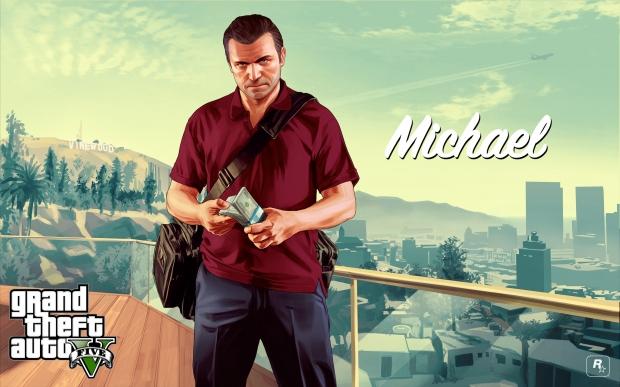 Despite not releasing any major games during the three month period ended June 30, Take-Two Interactive has recorded impressive earnings from recurring consumer spending and purchases of its catalog titles slate. In its fiscal Q1'18 period the company pulled in a total of to $418.2 million in net revenues, up 34% year-over-year from fiscal Q1'17, driven by NBA 2K17, GTA Online and GTA V, WWE 2K17 and WWE SuperCard, and Mafia III. As we reported earlier, 82% of Take-Two's first quarter net revenue was made on consoles.
The Grand Theft Auto parent company pulled in $348.3 million in net sales during the quarter, up 28% year-over-year, with catalog making up 94% of net sales for the period. Operating income was up a huge 255.92% year-over-year to $60.276 million, versus the loss of $38.657 million from fiscal Q1'17.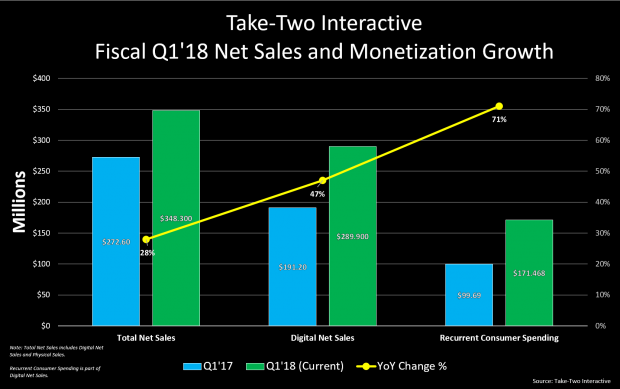 Perhaps the most impressive metric is how much Take-Two earned from its recurrent consumer spending segment, which includes in-game purchases and microtransactions in hit games like Grand Theft Auto and NBA 2K17, along with DLC, expansions, and other content. The company raked in $171.468 million in recurrent consumer spending in the period, up a mighty 71% year-over-year, and representing over half of the company's digital net sales.
Speaking of digital net sales, those were also up 47% to $280.9 million, falling in line with past trends as the company's digitally-delivered sales continue to dominate above physical.
"Fiscal 2018 is off to an excellent start, with our business's positive momentum continuing to exceed our expectations in the first quarter," said Strauss Zelnick, Chairman and CEO of Take-Two.
"We delivered growth in both Net Sales and net revenue, as well as margin expansion. Our results were led by the ongoing extraordinary performance of Grand Theft Auto V and Grand Theft Auto Online, strong demand for NBA 2K17 - which is now our highest-selling sports title ever - and increased recurrent consumer spending."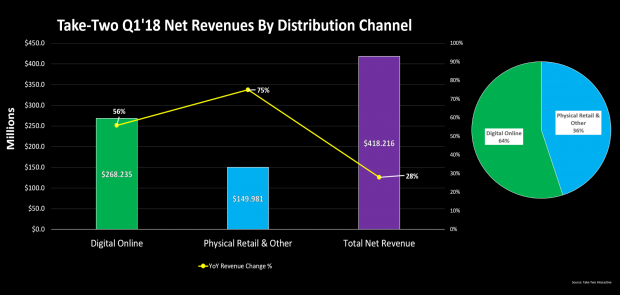 Digital drives earnings and dominates physical distrubtion
Digital online revenue made up 64% of net revenues during the quarter, or $268.235 million, up 55.87% year-over-year. These findings highlight how Take-Two's revenues are generated more and more from digital, which includes lucrative monetization revenues generated from Grand Theft Auto Online and NBA 2K, as well as full game downloads and expansions. Digital distribution's total net revenue percent share has increased by 9% year-over-year from fiscal Q1'17, where it made up 55% of total quarterly revenues.
Digital online distribution drove net revenues by dominating net sales. The company reported net sales revenue of $348.305 million in the quarter, of which 81% was made from digital, or $280.914 million. This marks a revenue increase of about 47% year-over-year, and a earnings percentage growth of 11% over fiscal Q1'17.
It's worth noting that the company didn't launch any new releases during this quarter, so this digital growth was achieved by lucrative in-game monetization in games such as Grand Theft Auto Online, NBA 2K, WWE, as well as full game downloads and purchases. Mafia III's new Stone's Unturned DLC also helped drive digital sales.
Conversely, Take-Two is earning less revenue from physical distribution: 36% of the company's total net revenue for the quarter, or $149.981 million, was made from retail. Although this is a revenue increase of 7.53% year-over-year, the retail channel's percentage of earnings share has decreased 9% year-over-year.
Like digital, physical retail net sales helped drive the company's net revenues for the quarter, albeit in a lesser capacity.
Physical accounted for 19% of total net sales for the three-month period, or $67,931 million in revenues, down 17.20% in year-over-year revenues due to the lack of new releases. Share-wise, physical distribution dropped 11% year-over-year from Q1'17 where it made 30% of total net sales.
Fiscal Q1'18 Earnings At-A-Glance
Net Revenues
$418.2 million
up 34% year-over-year
biggest contributors: GTA Online, GTA V, NBA 2K17
Net Sales
$348.3 million
up 28% year-over-year
catalog made up 94%
biggest contributors: GTA Online, GTA V, NBA 2K17
Digitally-delivered Net Sales
$280.9 million
up 47% year-over-year
Recurrent Consumer Spending
$171.468 million
up 71% year-over-year
52% of digitally-delivered net sales
41% of total net revenue
Operating Income
$60.276 million
up 255.92% year-over-year
Digitally-delivered Net Revenue
$268.2 million
up 56% year-over-year
Full Fiscal Year 2018 Guidance
GTA V (a game from 2013) boosted Take-Two's earnings so much that it's adjusting total FY2018 guidance. The company has raised its forecast for both net revenues and operating income for the twelve-month period ending March 2018:
Net Revenue adjusted by 6.17% to $1.72 billion

Operating income adjusted 25% to $140 million
Related Tags