Tekken 7 is crossing over to the heavily monetized world of mobile gaming, Bandai Namco today announced.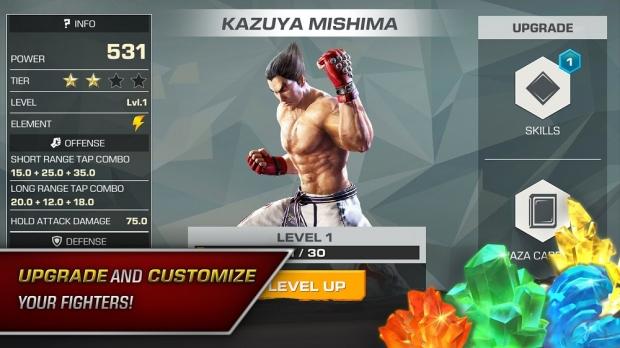 Having failed to properly monetize Tekken 7 on consoles and PC in a way that fits with current industry trends, Bandai Namco will now tap the billion dollar mobile games industry as a vehicle for long-term revenues for the game. A new Tekken 7 free-to-play mobile game is on the way for iOS and Android, and from the looks of it, the fighter will be heavily monetized in a number of ways.
While Bandai Namco has yet to reveal official details about Tekken 7's monetization, the official screenshots and press release give massive clues on how the game will be monetized. Traditional mobile games offer players opportunities to pay real money for in-game content ranging from time-saving EXP buffs and helpful items to simple cosmetics. Developers use this money to continually update the game with new content and features while keeping it free for all users. Mobile gaming is massively lucrative, and is expected to rake in $46.1 billion in 2017, or 42% of all gaming revenues for the year, according to analyst firm Newzoo.
Read Also: Tekken 7 Review: King of the Iron Fist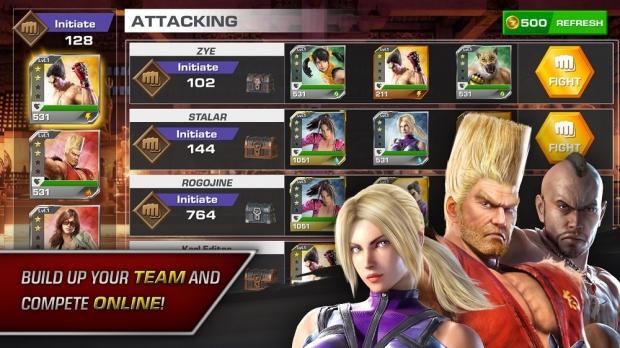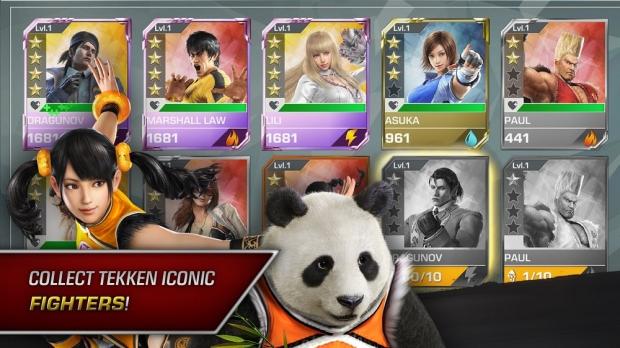 (Article continues below)
Instead of being a companion-style app, the Tekken 7 mobile game will be a fully-fledged fighter in its own right with a full story mode, an online versus battle mode, and a rotating pool of content. In fact the game will feature 100 different Tekken characters--many of which aren't in Tekken 7, including Marduk and Christie. Based on the screenshots the Tekken 7 mobile game will likely rely heavily on RNG rewards as well as a card-based economy for its huge character roster. Players can level up their fighters, which appear as cards, in a number of ways including raw level, health points and attack power. Users can even imbue their fighters with elements and skills, which will almost certainly be unlocked by playing the game and/or buying loot crates.
Everything that I see here tells me that Bandai Namco is serious about monetization, and the Japanese publisher should use a variety of strategies within the mobile game. We have evidence of RNG-based character cards as well as hints of loot crates that dole out elemental upgrades, skills, and special moves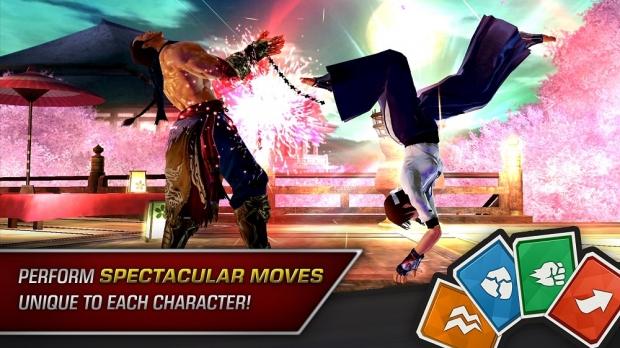 Tekken 7 has sold well since its release in June with 1.66 million copies sold on PS4, Xbox One and PC, but the company needs long-term revenues that come from expanded content and digital updates to ensure a longer earnings tail.
Thus I fully expect Tekken 7's mobile game to tie into the main Tekken 7 game and give players cross-platform rewards of some kind--cosmetics, faceplates, character items, etc.
Interested gamers can pre-register for the Tekken 7 mobile game here, and Bandai Namco says it will unlock and add more content to the game as more players sign up.
About the Game

Tekken, the world's most successful fighting game franchise has been brought to mobile! Join Paul, Kazuya, Xiayou, Law, Panda, Nina, and all other famous fighters to engage in an intuitive, deep combat system featuring fighting techniques from all around the world. Take on the role of the Dojo Master, collecting, upgrading and battling with your favorite fighters from the legendary Tekken franchise!

What's your next move? (The game was soft-launched via the iOS App Store today in Canada)

Tekken Features

• Collect over 100 characters with unique fighting styles

• Upgrade and unlock over 20 unique special moves for each fighter

• Battle it out in Unique Game modes including Story Mode missions, online versus battles in Dojo Challenge and rotating Live Event challenges!

Story Mode - Explore the world of Tekken

• Join the legendary fighter, Kazuya Mishima, as he battles against his toughest adversary yet! Battle through a map-based campaign featuring unique encounters and specialized and powerful bosses.

• Build specialized teams to take down unique missions

• Explore dynamic battle maps to uncover compelling challenges and rewards

Dojo Challenge - Online Versus Battles

• Build a team and battle against your friends and the community in this online versus mode

• Players build teams of attackers and defenders to compete in monthly seasons for unique rewards

• Ranked ladders allow players to progress and measure up against the best players in the world

• Players record and upload their own in-game fighting styles into the AI of their dojo, giving them an authentic feel

Live Events - Brand new content to experience daily

• Live events feature daily, weekly and monthly rotating content. A fresh experience every time you play!

• Special themed events will provide unique experiences and encounters

• Rare characters and content available during Special Events