Nintendo's new rewards scheme is very smart
Nintendo is rewarding Switch users for checking out news updates, and it's a very smart move that organically engages players.

Published Wed, Aug 9 2017 3:31 PM CDT
|
Updated Tue, Nov 3 2020 11:54 AM CST
Nintendo's new rewards scheme gifts in-game items to players when they read news posts and updates.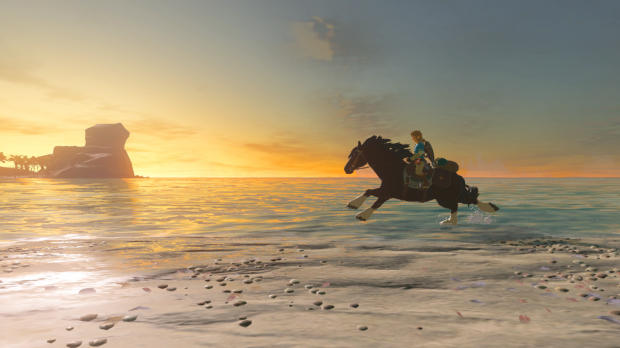 Nintendo has kicked off a new unique rewards platform that allows Switch users to earn in-game items simply for reading news posts. The initiative was launched with the Zelda tips channel, which will feature a number of articles and updates to show players unique things to do while playing the game. Zelda: Breath of the Wild players that read these posts can also earn free in-game rewards such as ingredients, miscellaneous items, and possibly weapons and armor.
This is a very, very smart move on Nintendo's part. Why? Because it engages players on a whole new level; gamers will--and I repeat will--read over the news posts just to get free goods, and maybe they'll learn something they didn't know about. This will create a natural form of engagement, which is the lifeblood for modern gaming, and it will help pull in lapsed players and incentivize them to return to the game.
For example, if someone learns they can do something interesting in Breath of the Wild that they didn't know about before, they're more likely to jump back in and recreate what they've learned. They could even share what they've learned with friends to create more buzz around the game. The news updates will also likely touch upon new content added by the paid DLC expansions in an effort to push players to buy the content.
More importantly, though, users will likely look at other posts on the news section too, especially those advertisements of new Switch games on the eShop and/or future Nintendo first-party games.
"Welcome to our new channel for the game, where I hope to share some helpful game tips. People have already found all sorts of things to do in the game, but maybe you will learn something new," said Hidemaro Fujibayashi, director of the Legend of Zelda: Breath of the Wild.
"And as a special thank you, if you own The Legend of Zelda: Breath of the Wild (either as a physical game card or the digital version), you will be able to reive items directly from some articles. For example, an article about a reciple also may give you a few of the ingredients to get you started."
Essentially this initiative is another arm of the same strategy Nintendo has used with Miitomo, its first smartphone game. The app rewards players for checking over content, logging in, and other miscellaneous activities that essentially advertise other Nintendo games. This could end up being a core engagement strategy that tethers players to the Switch, and I'm curious how this move will fit in the Nintendo Switch's social infrastructure.
In order to get the free items, Switch users have to update to the latest firmware update and Zelda: Breath of the Wild has to be running version 1.3.1 and above.
Related Tags