Activision continues its fiscal year with another strong quarter driven by consoles and digital content.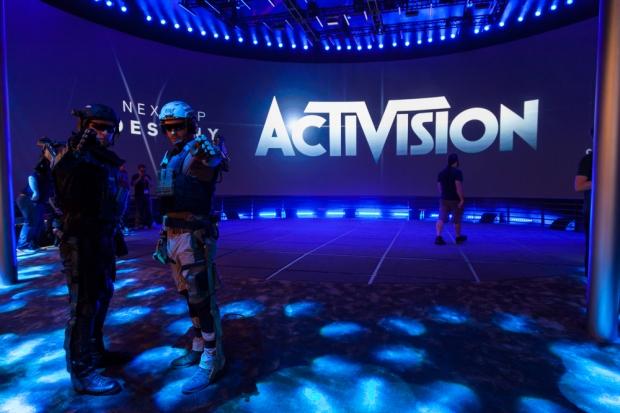 Activision recently reported its Q2'17 and second-half earnings for 2017, and the results have yet again beaten corporate guidance.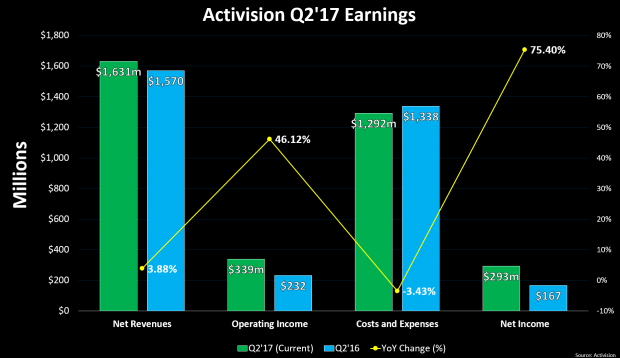 For the second quarter ending June 30, Activision pulled in a total of $1.631 billion, outpacing guidance by $206 million, or 14.5%. The company attributes this growth to successful engagement and monetization strategies across its entire slate of games, with Blizzard's key franchises earning the lion's share of revenues during the quarter thanks to Overwatch's landmark seasonal and anniversary events as well as World of Warcraft's latest expansion and new Hearthstone content.
In total, Activision recorded 407 million MAUs in the quarter across its full slate of content.
Blizzard reported record engagement with a massive 46 million monthly active users across all of its games, up 38% year-over-year, and representing a new all-time milestone for the company. Overwatch and Hearthstone contributed the most to MAUs.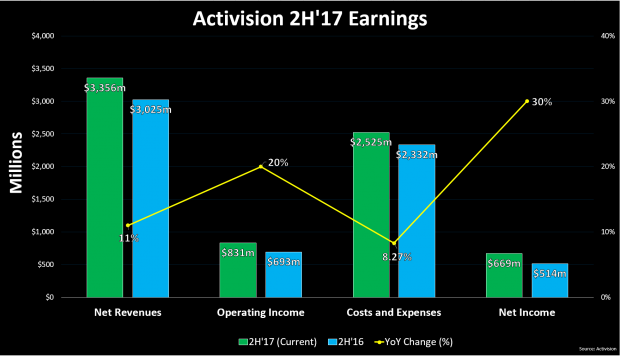 Activision earned $339 million in operating income during the quarter, up a mighty 46.12% year-over-year. Net income was $293 million, up a substantial 75.40% over last year's $167 million.
Although the company earned a massive $1.6 billion in net revenues, it spend $1.292 billion in the quarter on costs and expenses. This performance was actually down 3.43% year-over-year, meaning not only is Activision raking in more revenue but it's also paying less on its expenses.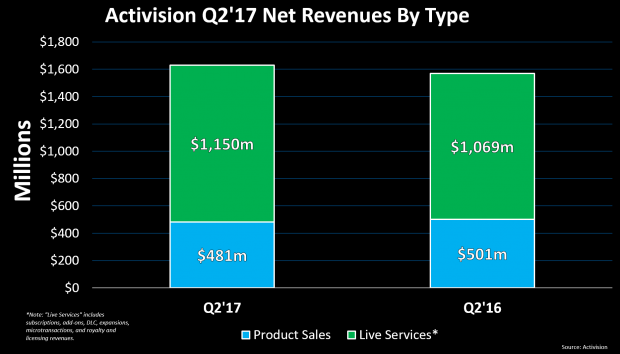 Read Also: Blizzard pulled in most of Activision's Q2 revenues
Players spent almost $1 billion on in-game purchases such as DLC, add-ons, subscriptions and microtransactions. In fact, the lion's share of earnings was made by digital purchases driven by microtransactions and the like; 80% of both quarterly and six-month net revenues being generated from digital. Aforementioned live services made up a raw 70% of quarterly earnings, showing just how much Activision is pulling in from its monetization strategies.
Like other major publishers, Activision earns most of its money from consoles, but PC isn't far behind.
Console made up 35% of the company's net revenues in the second quarter, or $568 million, down 12.61% year-over-year in revenues and 6 points in platform percentage.
PC revenues made up 31% of Q2'17 net revenues, or $508 million, up 23.60% year-over-year and 5 points in platform revenue share.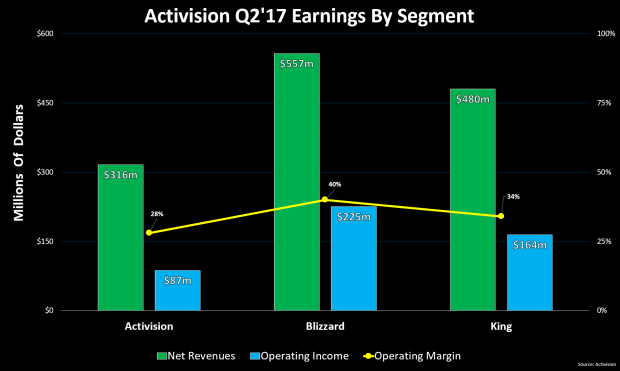 Read Also: Activision earned 80% of Q2 revenues from digital
The six-month period from January to June showed similar performance.
35% of Activision's net revenues in the six-month period (2H'17) were earned from consoles, or $1.182 billion, driven by blockbuster hits like Call of Duty, Overwatch and Destiny as we as in-game purchases. However it's worth noting that console revenues are down by 16.46% year-over-year, and so is the percentage share--in Q1'16 consoles made 47% of revenues.
PC accounted for 32% of Activision's net revenues, or $1.072 billion, up a mighty 32.18% percent year-over-year. The percentage of platform revenues is also up by 5 points year-over-year.
Read Also: Live services make up 70% of Activision's Q2 earnings
Bobby Kotick, Chief Executive Officer of Activision Blizzard, said, "This was another strong quarter for Activision Blizzard. We exceeded our outlook and delivered record revenues for the first half of 2017."
Kotick added, "Celebrating players and audiences is the foundation for our success. This quarter we announced the first team owners in the Overwatch League, the first major global, city-based professional esports league. With hundreds of hours of broadcast content ahead of us, as well as significant sponsorship and media opportunities, the Overwatch League will provide new ways for us to highlight and support the passion of esports fans and the skill of some of the world's top Overwatch players."
The games-maker outlined its next quarterly and full year guidance with the following forecast:
Q3'17 guidance
Net Revenues
$1.385 billion
Earnings per Share
$0.09
Calendar Year 2017 guidance
Net Revenues
$6.4 billion
Earnings Per Share
$1.05