Live services make up 70% of Activision's Q2 earnings
Activision continues making big revenues from subscriptions, DLC, add-ons, microtransactions, expansions and licensing.

Published Sun, Aug 6 2017 2:45 PM CDT
|
Updated Tue, Nov 3 2020 11:54 AM CST
Activision is arguably the king of monetization, and the company's recent earnings filings add more jewels to the company's crown.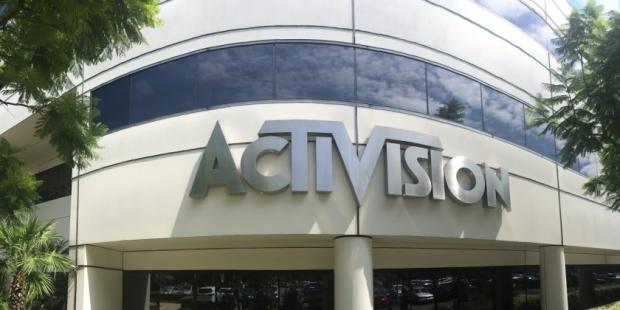 Games industry giant Activision recently announced its second quarter earnings for the fiscal year ending December 2017, highlighting record quarterly earnings growth and MAUs. The reports underline the company's core digital revenue streams and give key insight on how Activision has managed to stay on top for so long with its massively lucrative monetization strategies.
As the games industry shifts towards the GaaS model (Games-as-a-Service), video games now have recurring revenue opportunities baked in via live services that facilitate online play mixed with in-game purchases via DLC, add-ons, and microtransactions. Activision is one of the major drivers to this new push, and the company makes most of its quarterly earnings by far from digital thanks to its profitable live services.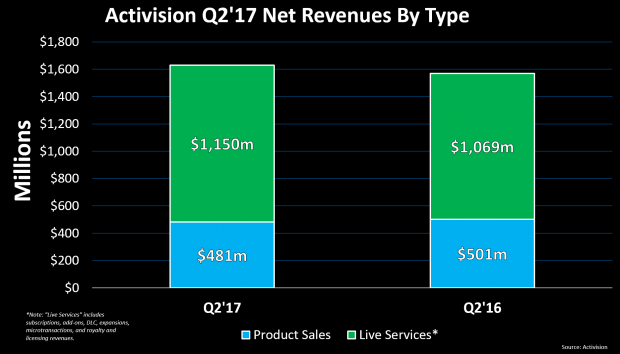 Activision makes quite a bit from its live services--in fact, the bulk of its earnings come from the segment. In the three-month period ended June 30, the company earned $1.150 billion--or 70% of its total second quarter net revenues--from live services, subscriptions, DLC, expansions, microtransactions, and licensing. This represents a 7.5% year-over-year increase from Q2'16.
Actual product sales accounted for just 30% of total quarterly net revenues with $481 million.
The company's six-month 2H'17 period shows a similar trend: once again live services, microtransactions, subscriptions and DLC pulled in $2.367 billion or 70% of the total $3.356 billion in net revenue earned in the six-month period. This performance metric represents a massive 100% year-over-year revenue increase from 2H'16.
Armed with Blizzard's massively popular fleet of PC and console games such as Overwatch, Heroes of the Storm, and World of Warcraft, its own heavy-hitters like Call of Duty, and King's monumental mobile arm, the company is in a prime position to continue this strong monetization strategy.
Related Tags