Nintendo hits $1.37 billion in net sales in Q1 earnings
Nintendo's Q1'17 earnings are way up thanks to strong 3DS and Switch hardware/software sales and mobile segment earnings.

Published Wed, Jul 26 2017 8:24 AM CDT
|
Updated Tue, Nov 3 2020 11:54 AM CST
Nintendo kicks off its new fiscal year with strong earnings in net sales, operating income, and total profits, solidifying the company's return as a major player in the games market.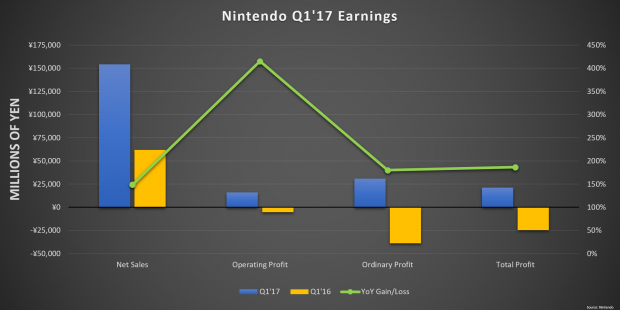 Nintendo today announced its first quarter earnings for the fiscal year ending March 2018, showing massive year-over-year growth and strong earnings potential for the rest of the year. In the 3-month period from April 1 thru June 30 the Kyoto-based games-maker pulled in net sales of 154.069 billion yen ($1.37 billion), up a mighty 148.62% year-over-year thanks to tremendous Switch adoption, continual 3DS earnings, and growing mobile revenues from its smartphone gaming segment.
The Japanese titan's Q1'17 operating income saw the most dramatic spike, however: Nintendo reported operating profit of 16.208 billion yen ($144.915 million), up an incredible 415% year-over-year from Q1'16's dismal -5.13 billion yen operating income figures. Total profits are up to 21.260 billion yen ($190.085 million), seeing another big boost by 186.65% year-over-year from Q1'16's -24.53 billion yen.

These earnings reflect just how much the company's new efforts, which include its latest Switch handheld-console hybrid and its smartphone gaming initiative, have sparked growth. The Switch remains an incredibly popular system worldwide with demand exceeding supply--especially in Japan, where the system flies off shelves and consumers wait in lines just for the chance to buy one.
Nintendo's smartphone gaming plans have been profitable, too. Recent forecasts estimate that its third smartphone game Fire Emblem Heroes has made over $114 million in six months, eclipsing Nintendo's Super Mario Run title.
The console-maker has adjusted total Nintendo Switch sales to 4.70 million globally, showing that despite the component shortages that plague the Switch the company is almost halfway to its 10 million console sales goal for FY2018.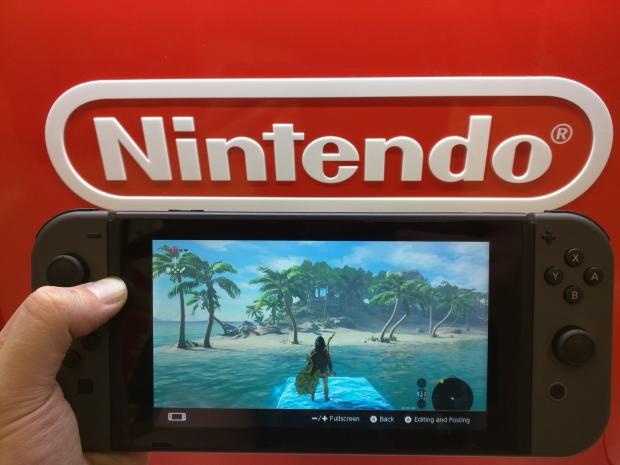 Related Tags