Ubisoft's new South Park mobile game is a big win
Ubisoft's new South Park mobile game is a huge opportunity for recurring revenue streams, and represents a massive win for the company.

Published Thu, Jun 15 2017 7:28 PM CDT
|
Updated Tue, Nov 3 2020 11:55 AM CST
E3 2017 - Ubisoft is set to pull in big revenue with its new South Park mobile game.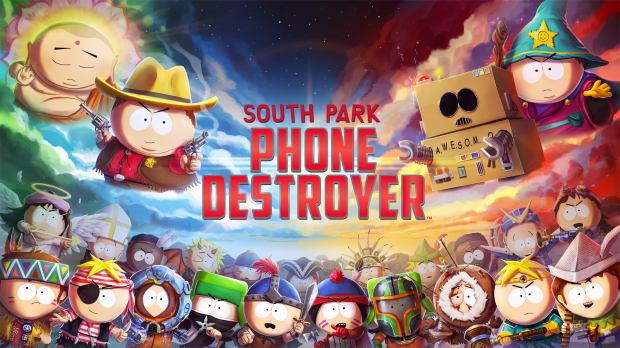 At its E3 2017 showcase Ubisoft announced South Park: Phone Destroyer, a new free-to-play iOS and Android smartphone game set in massively popular South Park universe. And as South Park devotees know, Freemium Isn't Free.
The very first South Park mobile game will be monetized with microtransactions, and herein lies Ubisoft's golden opportunity for a massive tail of recurring revenue.
South Park: Phone Destroyer incorporates some of the most popular and lucrative elements of mobile gaming with its unique hybrid design, combining card gaming with real-time strategy with other players online. Armed with these mechanics the game will be able to facilitate near-infinite replayability and therefore continue earning big over time.
To earn long-term revenue gamers will be able to buy optional time-saving items in the in-game store with real money, likely in blind-bag card packs. These microtransactions and purchased cards and items are tied into the comical universe and adding a splash of hilarity to the experience.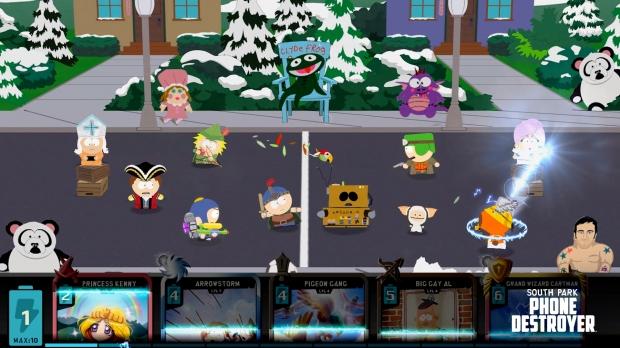 The new smartphone game combines some of the best-known and beloved South Park characters and themes to boot. The game not only features a fully-fledged singleplayer storyline that's set up to build off of some of the most popular episodes and themes, but the content itself will be borrowed from the universe and set up in such a way that simulates an actual episode.
This combined with microtransactions, online play, and a card-based ecosystem that leverages strategy is essentially the framework for a massive mobile game.
"The game is free to play. Everything can be earned in the game without paying, but you can choose to spend real-world money if you wish. The game is designed so that nothing is ever locked behind a paywall. Everything in the game is available to all players as they progress, whether they choose to spend real-world money or not. Remember, you can always disable in-app purchases in your iOS device settings."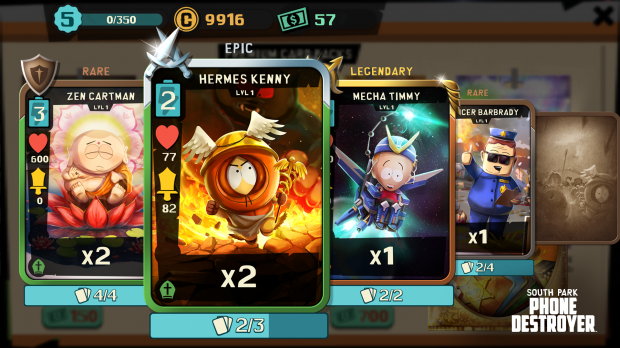 Ubisoft is doubling-down on player recurrent investment via monetized live services. The publisher has since confirmed that all of its new games will be based on live services in some way or another, signalling microtransactions are here to stay in Ubisoft-made games.
Microtransactions make a significant portion of Ubisoft's digital revenues and the number is steadily growing over time.
In 2016 Ubisoft earned $1.61 billion (1.45 billion euros) in total yearly sales, of which digital sales made up almost 50% of that number via game sales, microtransactions and in-game spending. Last year Ubisoft's PRI (player recurrent investment via microtransactions) earnings sat at 17% of total revenue, or $273.7 million.
The French games company forecasts that PRI will make up a steep 25% of its total sales for next year's Fiscal Year 2019 (March 2018 - April 2019), or $584.1 million. Ubisoft's PRI revenue has grown steadily since the implementation of its shift towards online content. The ambitious 25% PRI projection for 2018's earnings represents a sizable 45% increase over 2016's yearly PRI earnings.
Armed with all of these mechanics and properties, this mobile game has the winning formula to propel Ubisoft's mobile division to new heights, and I predict just about everyone who owns a mobile phone in the United States and Europe will play the new South Park game.
Ubisoft confirms that South Park: Phone Destroyer will be updated with new characters and content over time, further maximizing player engagement.
Related Tags