Far Cry 5 may release summer 2017
Ubisoft's next Far Cry game may get bumped up to give the new Assassin's Creed its own quarter to earn sales.
Published May 17, 2017 4:32 PM CDT
|
Updated Tue, Nov 3 2020 11:55 AM CST
3 minutes & 53 seconds read time
A new Far Cry game is coming, but when will it arrive? We make some predictions, and look over the company's financials for clues.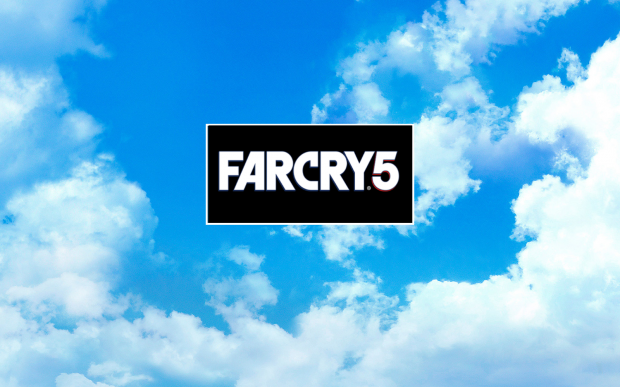 Ubisoft today confirmed that four new AAA games will release in its new Fiscal Year 2018 timeline, which is from now until March 31, 2018: Assassin's Creed, Far Cry, The Crew, and South Park: Fractured But Whole. We're not sure when the games will release, but its possible the four games will be carved up across the quarters for maximum sales effect.
We originally thought that Ubisoft would release one of these AAA games in Q1 to coincide with the big 22% sales spike it predicts, but that didn't make any sense; the publisher would have to release a game just weeks after its E3 reveal.
A closer look at the timelines garnered some more predictions, chiefly with the new Assassin's Creed and Far Cry games. Based on tradition, Assassin's Creed should release in November, which is Q3 of Ubisoft's Fiscal Year 2018 calendar. Far Cry 5, on the other hand, should release in its own quarter, possibly Q2, or Summer 2017. Given Ubisoft says the these titles will be "stronger new releases," we should see the games get their own respective quarters and/or release timelines.
But wait...Far Cry typically releases in November, too. So what gives?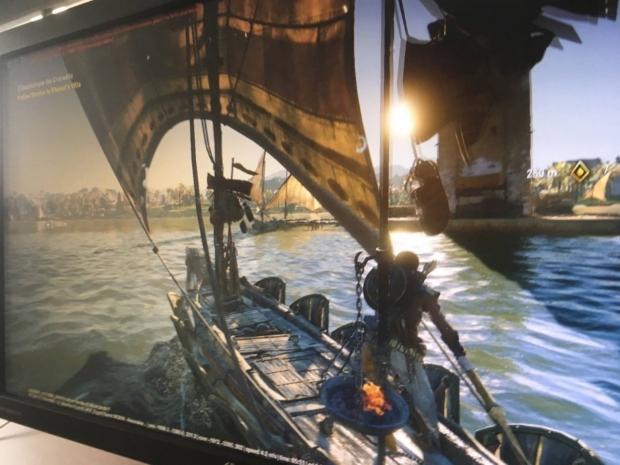 Read Also: New Assassin's Creed: Origins set in ancient Egypt, to have staggering freedom
Ubisoft's new Assassin's Creed game is different, and represents a massive new turning point for the franchise in terms of depth, content, and scope.
Everything we've heard so far has one common thread: this will be the biggest Assassin's Creed game ever made. Ubisoft has been developing this game for some time, and the publisher even disrupted its annual release cycle to ensure developers had enough time to make the best possible game they could make.
We've also heard the game is called Assassin's Creed: Origins, that it leverages Ubisoft's next-gen world-building tech facilitated by a brand new Anvil engine overhaul, offers staggering open-world freedom, takes place in ancient Egypt, and allows gamers to sail across the Mediterranean to Greece. The NPCs should also be next-generation in terms of dynamism and interactions, too.
Given how much time and care Ubisoft has put into the new Assassin's Creed game, it makes sense that the publisher would give it its own release quarter instead of smushing Far Cry into the mix as well. As such, we think Assassin's Creed: Origins will release in the prime time holiday rush of November 2017, to coincide with Ubisoft's 3Q timeline of FY2018.
Read Also: New Assassin's Creed: next-gen engine, leaked screenshot
Far Cry 5 should release in Q2 during the summer months of July, August and September. It wouldn't make sense to release a new big-budget AAA Far Cry game in Q4 (Jan - March) unless it was another half-step like Far Cry: Primal.
This new Far Cry game will be a mainline release, so it should launch during the proper "sweet spot" of the fiscal year. Rumor has it that the new Far Cry will be a spaghetti western set in the old west, but this report has come under scrutiny, so don't take it for face value. It's also possible the production team is filing footage for a new Call of Juarez game, so keep that in mind.
As for specifics on each game, both should have some sort of online component--online multiplayer or co-op with Far Cry--as well as key monetization options for recurring player investment. This of course means microtransactions, so don't be surprised when both games features in-game purchases.
Ubisoft predicts that PRI (player recurring investment) will rise beyond the 17% of all revenue value it was back in FY2017, but it hasn't disclosed the exact forecast.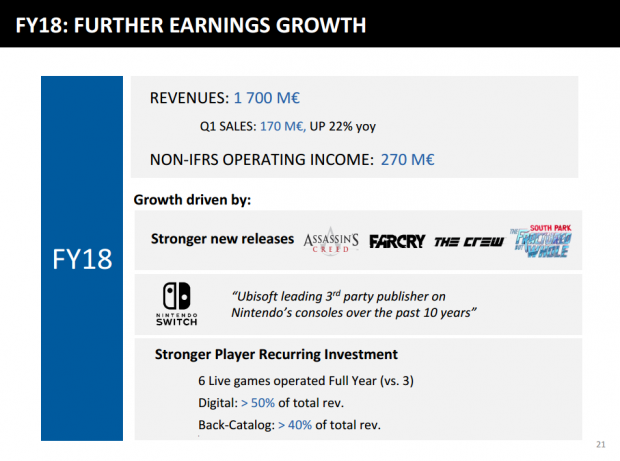 According to the financial slide, Ubisoft expects Q1 sales to jump by 22% year-over-year to $188.8 million (170 million Euros). This is actually a pretty big jump, and usually sales jumps like this indicate a game release. Ubisoft's Q1 FY2017 sales were quite strong, too: the company made $154.3 million (139 million Euros) in Q1 sales last year, exceeding its projections by 11.2%.
This year Ubisoft expects a 22% spike in Q1 sales is expected to rise even higher. A 22% year-over-year spike from Ubi's Q1 FY2017 results represents a raise of $33.9 million (30.58 million Euros).
What will cause this spike? Digital revenue from games like For Honor, Ghost Recon: Wildlands, Rainbow Six: Siege and The Division. Remember that Ubisoft didn't have For Honor and Ghost Recon in Q1 FY2017, and those two games are huge money-makers for the company.
As Ubisoft says, the company's major goal is to have "digital & back-catalog driving Ubisoft transformation towards a less hit-driven and a more recurring and dependable business."
Ubisoft will announce both games at its E3 2017 press conference on Jun 12 at 1PM PST / 4PM EST.
Related Tags