Steam launches algorithm-based game recommendations
Steam gets a new algorithm-based prediction feature to guide gamers towards new titles.

Published Tue, May 9 2017 5:17 PM CDT
|
Updated Tue, Nov 3 2020 11:55 AM CST
Today Valve released a new Steam feature to help point PC gamers towards titles they may not know about.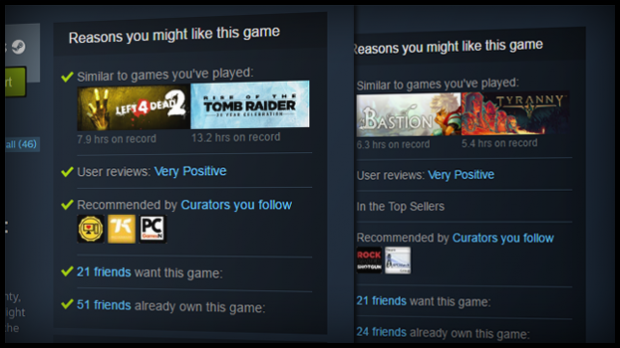 Valve just published an interesting bit of insight into their hopes and plans for Steam as a whole, and if you haven't read it yet, I urge you to check it out. Valve says it will publish a three-part series that discusses various features and changes coming to Steam, and the first part revealed a new feature that's coming to the platform today: algorithm-based predictions. This feature will point you towards games you may like, and gives you reasons based on your previous games library on why you may like said new game.
"We want to show you more of what [the black box algorithm] doing and why - and we have some features planned to help with this, starting with one we're launching today: an algorithm section on game pages that states why the Store thinks this game will (or will not) be interesting to you," Valve's Robin Walker wrote in the update. "This section will let you see inside the black box, and understand what the Store is thinking. We hope it will be useful whenever you're exploring the Store, but in particular, whenever you've navigated from an external web page directly to a specific game's Store page."
"In those cases, this section will help you understand whether or not this game is something the Store would recommend to you. In other cases, you might be more or less interested in something the store recommends if you know exactly why it's recommending it. For instance, knowing that a particular friend or curator likes or dislikes a game might make it clearer whether you'd like it."
Most Steam gamers are still frustrated about the recent changes to gifting, which takes aim at key resellers that offer cheaper Steam codes of big-budget games, but also hurts overseas gamers in the process.
Valve shows no signs of budging on the gifting policy, but it may have a change of heart if enough gamers push back against it.
The games-seller says that the third and final chapter of its blog series will focus on Steam Direct, it's new replacement for Steam Greenlight, and discuss the developer fees and policies regarding the platform.
Related Tags