Eager not to repeat Dishonored 2's disastrous launch performance on PC, Arkane's new Prey game runs quite smooth on the platform.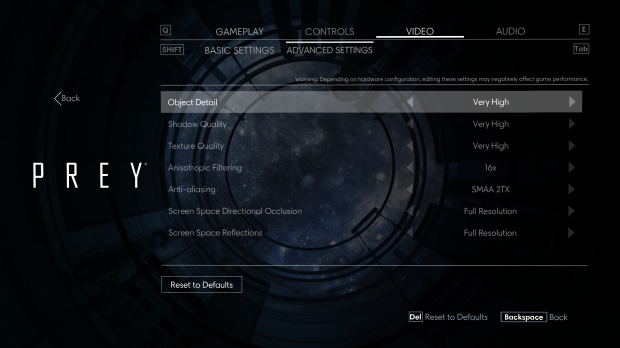 Arkane appears to be making good on its promise that Prey will be "really flawless when it ships." According to PC Gamer, Prey has consistently smooth frame rates on specific AMD and NVIDIA cards. Prey is able to hit 1440p 100FPS with an NVIDIA GeForce GTX 1070 on a G-Sync enabled monitor at Very High settings, and the game never dropped below 90FPS.
AMD cards should fare well, at least higher cards like the Fury X: Prey ran at 1440p 60FPS at Very High with V-Sync enabled on an AMD Radeon R9 Fury X.
One of the major differences between Prey and Dishonored 2 is that Arkane's new game runs on CryEngine, not their proprietary VOID engine. What's more is that Prey is a very enclosed type of game, whereas Dishonored 2 is more open-ended and has a lot more assets and textures to render and load.
But from PC Gamer's quick impressions, we can clearly see the game runs quite well on PC--at least on rigs with a GeForce GTX 1070 and an AMD R9 Fury X which are both higher-end cards.
It'll be interesting to see how the game fares on lower-end builds that're closer to the game's minimum requirements--a GTX 660 or AMD Radeon 7850--and even the recommended GTX 970 and AMD R9 290 cards.
TweakTown received a PS4 code instead of a PC code, so our review will be on console instead of PC this time around. Be sure to look out for our first impressions article which should be up in a day or two, and our feature-length review that will be up shortly after.
Prey PC requirements:

MINIMUM:

OS: Windows 7/8/10 (64-bit versions)

Processor: Intel i5-2400, AMD FX-8320

Memory: 8 GB RAM

Graphics: GTX 660 2GB, AMD Radeon 7850 2GB

Storage: 20 GB available space

RECOMMENDED:

OS: Windows 7/8/10 (64-bit versions)

Processor: Intel i7-2600K, AMD FX-8350

Memory: 16 GB RAM

Graphics: GTX 970 4GB, AMD R9 290 4GB

Storage: 20 GB available space
Prey releases tomorrow, May 5, 2017 on PS4, Xbox One and PC.