Gearbox messes up quite a bit. Between terrible games like Duke Nukem: Forever and abominations like Aliens: Colonial Marines, the studio just can't catch a break--it's really it's own worst enemy. Now the latest screw up has turned into a PR nightmare, and Gearbox is desperate for a way out.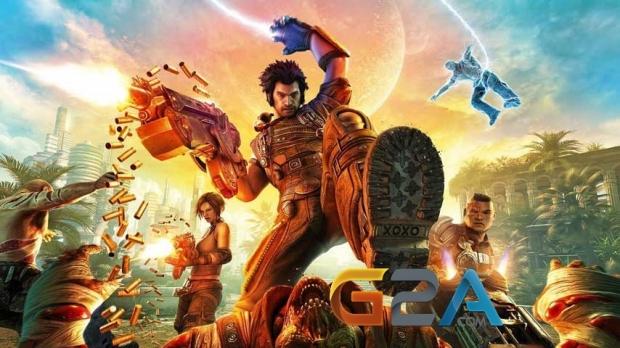 Gearbox Software recently signed a deal with extremely controversial games merchant key reseller G2A.com to release a collector's edition for Bulletstorm: Full Clip Edition, aka the massively overpriced remaster that no one asked for. YouTuber Total Biscuit caught wind of this deal, and announced a boycott of all Gearbox games from his coverage if the studio didn't dissolve the deal with G2A. Gamers everywhere spread the news, and with every share Gearbox's rep tanked--tanked further, that is.
So Gearbox did the logical thing and worked on an exit strategy. And it found a strategy that pretty much ensured it would have a justified means of escape from a situation it had dug itself into, and by escape, I mean Total Biscuit would continue covering their games and gamers would approve of the move. The studio-turned-indie-game-publisher told G2A that it would have to basically re-organize its business structure within 30 days or else Gearbox would pull its deal and back out of the agreement.
Here are the terms Gearbox sent G2A:
Within 30 days, G2A Shield (aka, customer fraud protection) is made free instead of a separate paid subscription service within terms offered by other major marketplaces. All customers who spend money deserve fraud protection from a storefront. To that end, all existing G2A Shield customers are notified by April 14th that fraud protection services are now free and they will no longer be charged for this.

Within 90 days, G2A will open up a web service or API to certified developers and publishers to search for and flag for immediate removal, keys that are fraudulent. This access will be free of charge and will not require payment by the content holders.

G2A makes a public commitment to this: Within 60 days implement throttling for non-certified developers and publishers at the title, userid, and account payable levels for a fraud flagging process. This is to protect content providers from having large quantities of stolen goods flipped on G2A before they can be flagged.

G2A makes a public commitment to this: Within 30 days, G2A restructures its payment system so that customers who wish to buy and sell legitimate keys are given a clear, simple fee-structure that is easy to understand and contains no hidden or obfuscated charges. Join the ranks of other major marketplaces.
As you could imagine, G2A hasn't made any move to reply...and I fully don't expect them to completely re-arrange their shady business model just for a remaster of a bargain bin game. To be fair, the demands would likely help make the industry and the games marketplace a much better place. But it probably wouldn't be lucrative for the business (something tells me shady deals are much more profitable than actual bona-fide storefronts).
G2A's reputation is already quite tarnished, and so is Gearbox's for that matter, but by simply associating with the key reseller Gearbox has taken yet another hit. How many can they afford to take before they're kaput?
I just wonder how People Can Fly thinks about this. They're the indie studio that now owns the Bulletstorm franchise, and made the Bullestorm: Full Clip Edition remaster. What a messy thing to uncover in your first major deal with Gearbox's indie publishing arm...