Destiny 2 content timed exclusive to PS4 until 2018
PS4 owners get exclusive content for a full year...again.

Published Wed, Mar 29 2017 8:44 AM CDT
|
Updated Tue, Nov 3 2020 11:56 AM CST
Bungie has officially confirmed Destiny 2 with a reveal trailer, and once again in-game content will be locked to PS4 owners for a full year.
Destiny was notorious for its timed exclusivity deals, which gave PS4 owners access to weapons, strikes, and other content that was gated off to Xbox players for a full year. Surprising no one, that trend will continue with Destiny 2, indicating Activision's multi-year deal with Sony is still strong as ever. Remember that Destiny 2 should launch on PC, so this timed exclusivity will now lock out a new platform of gamers from content.
"Get exclusive Destiny 2 content on PS4. Timed exclusive content until at least Fall 2018. More details to come this summer," reads Sony's Destiny 2 reveal trailer.
Although Destiny 2's official reveal trailer drops on March 30 at 1pm EST, we'll probably have to wait until Sony's E3 2017 presentation to learn the full timed exclusivity details.
Let's just hope Bungie/Activision don't decide to lock away too much stuff this time. PC gamers won't take kindly to that--hell, if Destiny doesn't get a massive makeover, PC gamers will likely rip it apart.
Destiny 2 is expected to launch on PS4, Xbox One and PC sometime in September 2017.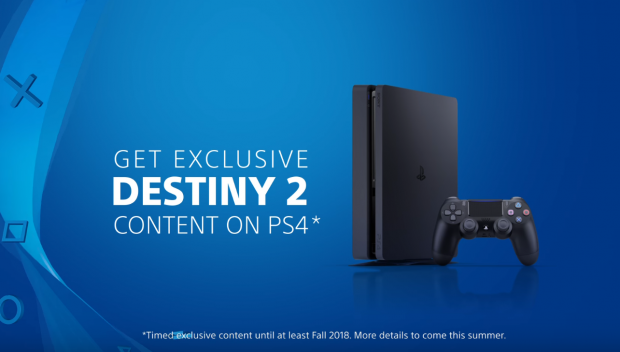 Related Tags