Xbox One gets $10 EA Access-like subscription service
Xbox Game Pass monthly sub offers rotating digital lineup of Xbox 360 and Xbox One games including Play Anywhere games on Windows 10 PCs.

Published Tue, Feb 28 2017 11:23 PM CST
|
Updated Tue, Nov 3 2020 11:56 AM CST
Microsoft today announced Xbox Game Pass, a new paid subscription service that offers 100+ Xbox One and Xbox 360 backward compatible games on a month-by-month basis.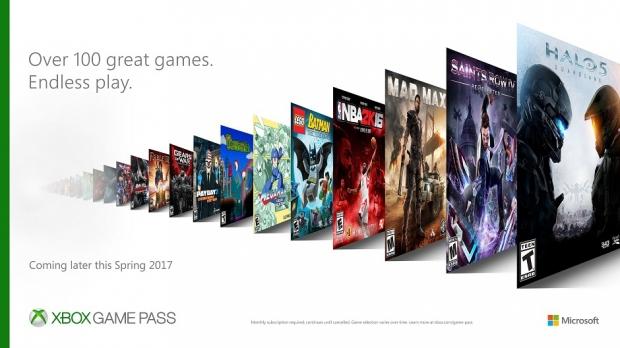 Xbox Game Pass will cost $10 a month, and Xbox LIVE Gold isn't required for the sub, however you will need Gold to play multiplayer in Xbox Game Pass games. The service is exclusively for Xbox One and not Xbox 360 or Windows 10, however if a Play Anywhere game such as Resident Evil 7 is included, users can play them on Windows 10 PCs as well as Xbox One consoles. Just don't expect non-Play Anywhere games like Halo 5: Guardians to be playable on PC.
Microsoft is borrowing lots of ideas out of other sub service playbooks, including Netflix, EA Access, and even PS Now. Unlike Sony's disastrous PlayStation Now service, Xbox Game Pass will allow users to download full games to their consoles. The games lineup will rotate every month just like Netflix, and once a game is rotated out you can't play it any more. This is similar to Nintendo's game plan with the Switch's online service.
Unlike PS Now, however, you don't have to be connected to the internet to use Xbox Game Pass: subscribers can play any game offline for up to 30 days. There will be "over 100 Xbox One and Xbox 360 backward compatible games" when the service launches "this spring." Of course if you cancel or expire your subscription you'll lose the rights to access all the downloaded games you have installed--but you get to keep the DLC and add-ons.
According to GamesRadar, Xbox Game Pass adheres to the same Home Sharing rules as Xbox LIVE Gold; that means you can share your active Game Pass sub with your family and friends on the same Xbox One console.
Also the games with online multiplayer included with Xbox Game Pass will be cross-play across both retail and digital versions of that game. So you won't just be playing with Xbox Game Pass subscribers, but all gamers currently playing that game online.
"With great games from top industry publishers such as 2K, 505 Games, BANDAI NAMCO Entertainment, Capcom, Codemasters, Deep Silver, Focus Home Interactive, SEGA, SNK CORPORATION, THQ Nordic GmbH, Warner Bros. Interactive Entertainment and Microsoft Studios, there's something for everyone to enjoy and you will always find something exciting to play across a variety of genres. Some of the fan-favorite titles coming to Xbox Game Pass when it launches to the broader Xbox community later this spring include Halo 5: Guardians, Payday 2, NBA 2K16 and SoulCalibur II," Xbox boss Phil Spencer said during the announcement.
Xbox Game Pass subscribers will get 20% off on the games that are currently in the rotation for that month. So if Halo 5 is included in this month's rotation, as long as you're sub is active, you can get 20% off the full game. Of course that'll likely be 20% off the full game's MSRP.
Here's some fine print from the official Xbox Game Pass page:
"Xbox Game Pass is an Xbox One, Xbox Play Anywhere, and Xbox 360 backward compatibility game subscription for Xbox One; an active subscription is required to play games. The titles and number of games included in the subscription may vary over time, may vary by country, and may not be available in all countries. Subscription continues to be charged monthly at the then-current price (subject to change; plus applicable taxes) unless cancelled. Cancel anytime. For cancellation info see www.Xbox.com/accounts. DLC sold separately. Notice before purchase of DLC: If you purchase DLC for a game that is later removed from Xbox Game Pass, or you terminate your Xbox Game Pass subscription, you will need to purchase the game separately to continue using the DLC. Xbox Live Gold membership (sold separately) required for online multiplayer on Xbox One. "
Our Take
I personally see Microsoft trying to further tighten its own ecosystem by giving consumers more choice, but I think this move will backfire in terms of content availability. Microsoft will assuredly have to pay developers and publishers via timed agreement deals (much like its timed exclusivity deals on the Xbox One) to keep their games on for 30 days, especially since this is counter-intuitive to the overall business structure.
Giving gamers 30 days of access to any game is essentially enough time for them to beat it and move on. This is kind of like a digital GameFly service for Xbox games. Publishers want you to buy the games at full $59.99 MSRP and double-dip across consoles and PC (look at what Take-Two did with GTA V), and this move probably isn't very attractive to them.
Also I think that Play Anywhere games will be few and far between on this service. The cross-buy initiative is already something that publishers don't really like (unless they're paid to like it by MS) and now that their games could end up being offered for 30 days in a lumped selection for both Windows 10 and Xbox consoles, this could deter them even more.
What is attractive, however, is Microsoft's checkbook.
At the same time, however, this gives publishers a hold on the used game market via Xbox 360 backward compatibility. Some publishers equate the used game market to piracy and affirm it'll be the death knell for gaming as a whole. Now with this service they'll have a means of making money on a regular subscription basis--not to mention the cash from Microsoft's deals.
I do think this is a good move for gamers though, but Microsoft will have to compensate that goodwill with marketing deals on the business side of things.
Check below for the full Xbox Game Pass FAQ for more info.
Top frequently asked questions

What is Xbox Game Pass and how does it work?

At Xbox, we believe in offering new ways to give you the best value to play a collection of the greatest games. For one low monthly price, Xbox Game Pass gives you unlimited access to over 100 great games - including popular backward compatible Xbox 360 and blockbuster Xbox One titles. Xbox Game Pass will add games to (and sometimes remove games from) its catalog every month, which means you can always find something new and exciting to play. Download and experience games in their full fidelity from top industry publishers and play offline for up to 30 days. Xbox Game Pass is truly your ticket to endless play.

Do you need to have an Xbox Live Gold membership to access Xbox Game Pass?

No, you do not need to have an Xbox Live Gold membership to access Xbox Game Pass. As with all Xbox Live titles, you will need an Xbox Live Gold membership to play multiplayer in Xbox Game Pass titles.

What games will be available on Xbox Game Pass when it launches?

We're working closely with top industry publishing partners to bring a robust list of titles at launch. We expect to have over 100 games from the most popular genres including action, adventure, shooters, puzzlers, strategy, RPG, and more with new titles added each month.

Will Xbox Game Pass be available where I live at launch?

Xbox Game Pass will be available in at least 27 Xbox markets at launch, quickly growing to as many new markets as catalog availability permits.

Are games for Xbox Game Pass streamed directly or will they be downloaded to my Xbox One?

Based on fan feedback, streaming/connectivity issues were identified as a major pain point for competing game subscription services. That's why games on Xbox Game Pass will be downloaded to your Xbox One, providing fans with a native, full-fidelity gaming experience and the ability to play downloaded games offline for up to 30 days.

Is there a limit to how many games I can download to my account at one time?

No - so get your storage ready! Gamers love to play, which is why Xbox Game Pass gives you unlimited access to over 100 backward compatible Xbox 360 and Xbox One games while they are in the active catalog. There is no limit to the number of games you can download from Xbox Game Pass, other than the hard drive capacity, which you can manage or upgrade at Xbox.com.

Once I download a game with Xbox Game Pass, do I own it?

No, the Xbox Game Pass catalog will update with new games being added every month. You need an active Xbox Game Pass subscription to play games. If you love a game currently in the catalog and want to own it, you can buy it and instantly save 20 percent off the price of the base game with your Xbox Game Pass membership, plus get 10 percent off any related game add-ons and consumables while the game is still in the Xbox Game Pass catalog.

What happens if my subscription expires or I cancel?

If your subscription expires or is cancelled, any games downloaded through Xbox Game Pass will no longer be available. However, progress and achievements will remain attached to your account. All games that you have purchased from Xbox/Xbox Store will remain in your games library until you manually remove them.

Will Xbox Game Pass be available on Xbox 360?

Xbox Game Pass will only be available on Xbox One. While some Xbox 360 backwards compatible games will be included in Xbox Game Pass, those titles will not be available on the Xbox 360 console via your subscription.
Related Tags