The PC gaming hardware market's total earnings for 2016 broke through the $30 billion barrier for the first time, analyst firm Jon Peddie Research has announced, showing that PC gaming is alive and well.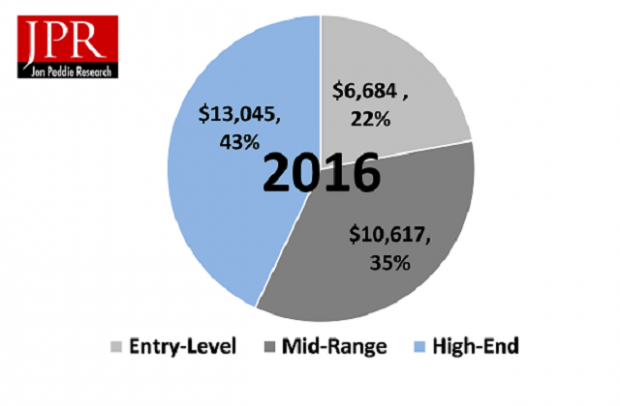 According to JPR's findings, the PC gaming hardware market's $30 billion earnings are mostly due to enthusiast gamers--but mid-range and entry-level gaming solutions are a huge part of the spend as well. JPR reports that the global PC gaming's $3 billion 2016 earnings are broken up into three categories: the high-end enthusiast market, which comprises 43% of the overall spend at 13,045 million ; the mid-range market which comprises 35% of the total numbers at 10,617 million; and the entry-level market that makes up 22% of the spend at $6,684 million. The Asia-Pacific market "leads the world in both growth and market size," and
JPR predicts that the PC gaming hardware market will continue to grow at a 6% compound annual growth rate (CAGR) through 2019.
Ted Pollak, Senior Game Industry Analyst for JPR:
"Global consumers continue to embrace the PC platform for video games due to multiple factors. The desktop ergonomic is popular because the display distance offers increased detail when using HD and UHD monitors. Additionally there is superior control with mouse and keyboard control interfaces.

"This has been validated with eSports overwhelmingly being played on PCs. Additionally, product designers have given PC gamers thousands of options for complete customization from a functionally and aesthetic perspective.

"Examples of this include dedicated driving and flight systems, multi-display setups, super-powerful graphics boards, and a wide selection of gaming notebooks ranging from desktop substitutes to innovative "thin and light" offerings. Liquid cooling, lighting, solid state drives, genre specific gaming mice, mechanical keyboards, notebook graphics amplifiers, and Xbox accessory compatibility offer gamers more choices than they have ever had."