Western Digital reveals new 12TB Helium He12 hard drives
Western Digital itnroduces the industry's first 8-disk 12TB helium hard drives, and plans to roll out a 14TB SMR hard drive later next year.

Published Wed, Dec 7 2016 2:22 PM CST
|
Updated Tue, Nov 3 2020 11:57 AM CST
Western Digital has announced its new massive 12TB Ultrastar He12 helium hard drives.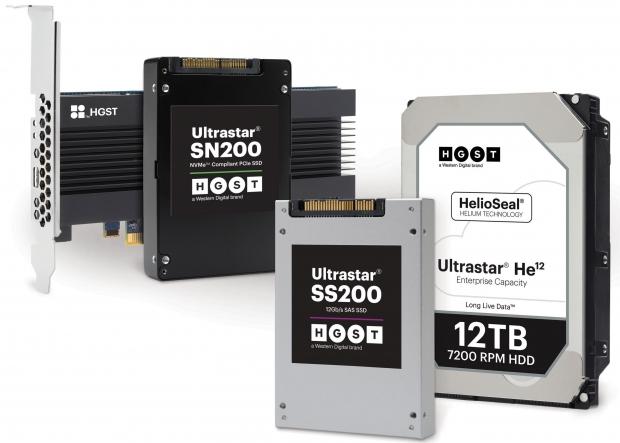 WD's new fourth-gen 12TB Ultrastar He12 drives are the industry's first-ever 8-disk helium drives--with the added helium allowing for two disks more than the maximum air-filled HDDs. Most HDDs are filled with air, but adding lighter helium allows manufacturers to fit more lighter, thinner disk platters into the drives, thus improving storage density, power efficiency, and actuator arm accuracy. The 12TB He12 drive is available in both 6Gb/s SATA or 12 Gb/s SAS interfaces, and has a Mean Time Between Failure (MTBF) rating of 2.5 million hours.
Hermetically sealed with Western Digital's HelioSeal process, Western Digital affirms that the Ultrastar He12 drives are "perfect for any application that requires massive amounts of cost-effective storage."
If 12TB isn't enough, the company has revealed that it will "leverage SMR to provide even more capacity from the same essential hardware to deliver 14TB" of data storage.
Western Digital has also revealed other high-performance enterprise drives, click here for details.
Read Also: Seagate reveals its first 10TB helium-filled hard drive
Key OEMs are currently sampling the Ultrastar He12 helium drives, and they are expected to be available to enterprise companies in the first half of 2017. The 14TB SMR HDD will launch in the middle of 2017.
Check below for specifications of the fourth-gen Ultrastar He12 helium drive.
Ultrastar He12 Helium HDD Specifications
World's first 8-disk design, 12TB capacity, available with either 12Gb/s SAS or 6Gb/s SATA interface

HelioSeal: Western Digital's fourth generation, based on exclusive HelioSeal technology, bringing the highest capacity HDD to market much sooner than competing technologies
Data Security: Instant Secure Erase, sanitize and safely redeploy HDDs using the Instant Secure Erase feature
SED Features: Help protect end-user data with encryption (Self Encrypting Drive)
Reliability: Amongst the industry's highest MTBF rating at 2.5M hours with a 5-year limited warranty
Related Tags