The new solutions include the blazingly fast HGST-branded Ultrastar SN200 NVMe-compatible PCIe solid state drive (SSD) series, which offers class-leading random read performance of up to 1.2 million IOPS in key workloads, and the company's fastest and highest capacity SAS SSD to date, the HGST-branded Ultrastar SS200 Series SSD. The company also introduced its fourth-generation helium-based HelioSeal enterprise-class hard disk drive (HDD), the 12TB HGST-branded Ultrastar He12 drive. Additionally, the company announced it will extend the He12 platform to 14TB, leveraging Shingled Magnetic Recording (SMR).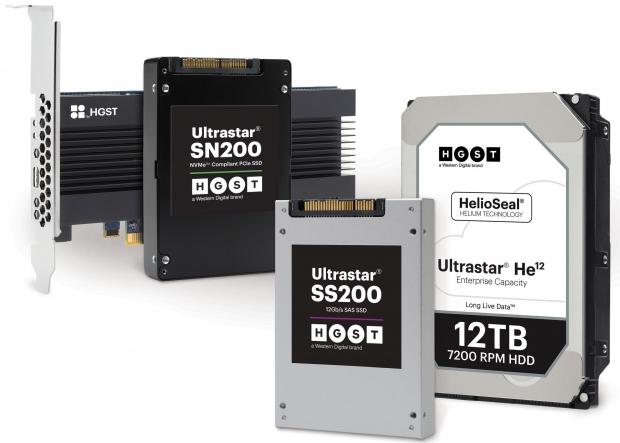 "We have raised the bar in enterprise storage with our most advanced and highest capacity enterprise-class SAS SSD, NVMe SSD, and HDD solutions to date," said Mark Grace, senior vice president of devices at Western Digital.
"The unparalleled performance of the new Ultrastar SN200 Series NVMe PCIe solution brings outstanding responsiveness and throughput to even the most demanding data center applications, while our new Ultrastar SS200 Series SSD delivers the ideal balance of speed and capacity to the high volume workloads and critical applications that are best addressed by the capabilities of SAS SSDs.
"Additionally, the He12 HDD is a great addition to our enterprise hard drive family, leveraging the HelioSeal platform to deliver the highest capacity with exceptional power efficiency. With their outstanding reliability and Quality of Service (QoS), these new additions to our industry-leading data center portfolio enable customers across the spectrum to meet their evolving and dynamic data center demand."
Ultrastar SN200 SSD Delivers Next-Generation NVMe PCIe Storage Capacity, Speed
The Ultrastar SN200 NVMe SSD series is the highest capacity NVMe PCIe SSD available today in 2.5-inch and Half-Height, Half-Length (HH-HL) form factors. Leveraging Western Digital's advanced memory technology, it is the company's fastest NVMe PCIe SSD to date, offering up to 100 percent more sequential read, and up to 61 percent more random read performance than the company's previous-generation NVMe-compliant SSD, the HGST-branded Ultrastar SN150 SSD.
Available in capacities ranging from 800GB to 7.68TB, the extreme performance and superior capacity of the new NVMe PCIe SSD, in combination with its outstanding QoS, make it ideal for workload-intensive cloud and hyperscale environments that demand instant response times, such as e-commerce, search and social networks, as well as environments processing massive volumes of data in real-time, including intensive analytics.
Ultrastar SS200 SAS Enterprise-Class SSD Transforms Data Centers
The Ultrastar SS200 SSD is the highest capacity and highest performing SAS SSD from the company to date. It is built to efficiently deliver superior capacity, low-latency performance and the outstanding endurance needed to help data center managers address the rapidly growing volume and velocity of data from today's critical applications, while at the same time balancing their total cost of ownership (TCO). Offered in capacities up to 7.68TB, it brings new capabilities and possibilities to storage arrays, hyperconverged and software-defined architectures that require dual-port design with a SAS interface.
The enterprise class Ultrastar SS200 SSD is available in two endurance classes to meet customers' needs, including 1 and 3 random drive writes per day (DWPD). Leveraging advanced NAND management technology, the SSD offers tremendous read performance (up to 1,800MB/s sequential/up to 250,0000 4KiB IOPS random) without compromising on write performance (up to 1,000 MB/s sequential/up to 86,000 4KiB IOPS random). This makes it ideal for a wide variety of data-intensive, critical enterprise and cloud-based applications.
In addition, the Ultrastar SS200, leverages the company's latest generation Guardian Technology platform, a proprietary and comprehensive set of features and technologies that significantly improve endurance and reliability, helps safeguard against data loss, and further ensures outstanding QoS.
Ultrastar He12 Helium HDD
The He12 is Western Digital's fourth-generation helium HDD, featuring an industry-first eight-disk design, to deliver 12TB capacity using PMR technology in a standard 3.5-inch form factor. It is the world's highest capacity hard disk drive for active random workloads. Utilizing Western Digital's unique HelioSeal process that seals helium in the drive to help provide the highest capacity HDD and exceptional power efficiency, the He12 comes in a single 12TB capacity point and offers either a SATA or SAS interface both using Advanced Format.
HelioSeal technology utilizes helium with 1/7 the density of air, enabling the use of thinner disks, while maintaining a stable recording interface. The unique He12 design adds an eighth disk, two more than the highest capacity air-based drive, which enabled the capacity increase to 12TB, 50 percent more than the highest air-based design.
This additional capacity provides for increased storage density, reducing associated data center infrastructure required to store a given amount of data. It also encompasses a low-power design without compromising performance, which helps reduce overall cost of ownership. The He12 is perfect for any application that requires massive amounts of cost-effective storage.
The company will extend the He12 platform further, leveraging SMR to provide even more capacity from the same essential hardware. The SMR version of the drive will deliver 14TB and will support, in particular, many cloud service providers that have implemented SMR support in their software architectures to more cost effectively store ever increasing data associated with the services they provide.
Features and Specifications:
Ultrastar SN200 NVMe PCIe SSD Series
PCIe Gen 3 and NVMe 1.2 compatible

Offering best-in-class 70/30 mixed read/write random performance of up to 560,000 4KiB IOPS

Storage capacity up to 7.68TB in both 2.5-inch SFF and HH-HL AIC form factors; the highest capacity NVMe PCIe SSD available in these form factors

Superior Enterprise-grade reliability: Flash-aware RAID, end-to-end data-path protection, advanced ECC, secure erase, PowerSafe power-loss protection
Ultrastar SS200 SAS SSD
Enterprise-grade 12Gb/s SAS SSD; backward compatible with 6Gb/s SAS

Available in capacities from 400GB to 7.68TB in 2.5-inch drive form factor

Read Performance: Up to 1,800MB/s sequential read and up to 250,000 4KiB IOPS in random reads

Write Performance: Up to 1,000MB/s sequential writes; endurance of 3 or 1 random drive writes per day for 5 years

Data Security: Instant Secure Erase (ISE) and Self-Encrypting Drive (SED) options including TCG Enterprise
Ultrastar He12 Helium HDD
HelioSeal: Western Digital's fourth generation, based on exclusive HelioSeal technology, bringing the highest capacity HDD to market much sooner than competing technologies

World's first 8-disk design, 12TB capacity, available with either 12Gb/s SAS or 6Gb/s SATA interface

Data Security: Instant Secure Erase, sanitize and safely redeploy HDDs using the Instant Secure Erase feature

SED Features: Help protect end-user data with encryption (Self Encrypting Drive)

Reliability: Amongst the industry's highest MTBF rating at 2.5M hours with a 5-year limited warranty
Availability
The Ultrastar SN200 NVMe SSD Series and the Ultrastar SS200 SAS SSD are currently sampling to select customers, and will be generally available in the first quarter of the 2017 calendar year. The company is also currently sampling to select OEMs the Ultrastar He12, which will be generally available the first half of the 2017 calendar year, and the 14TB SMR HDD, which will be generally available in the middle of 2017 calendar year.
Last updated: Sep 1, 2017 at 12:58 am CDT