Overwatch's Symmetra gets redesign, two ultimates
Overwatch hero Symmetra will have two ultimates, new ability, buffs soon.
Published Nov 22, 2016 2:10 PM CST
|
Updated Tue, Nov 3 2020 11:57 AM CST
1 minute & 13 seconds read time
Overwatch hero Symmetra has been a lackluster hero for a long while, but it sounds like that's about to change. As game director Jeff Kaplan details in the video below, Symmetra is getting a near complete overhaul that should make her much more viable, and possibly even overpowered.
If you're not familiar with Symmetra, she's a support hero (though some might classify her as defense) who often takes the place of a tank or DPS, as two healers is usually vital. Her kit is centered around her ultimate, a teleporter that helps dead allies get back to the fight quickly. The problem, as Kaplan explains, is the teleporter is really only useful on first point defense and not in any other situation. As such, she's getting two ultimates which you can choose between whenever your meter is filled. The first is the same old teleporter (except with regenerating shields), and the second is a shield generator which, well...generates shields (powerful ones too).
Her old shields are being axed entirely (they weren't significant but buffing them would've been arguably OP, so no big loss), and she's getting a photon barrier ability. Barrier is described in very vague terms, but we do know it has a huge 50 meter radius and can be used defensively, offensively, or to protect your teleporter, generator, or turrets, and that it will reward creativity.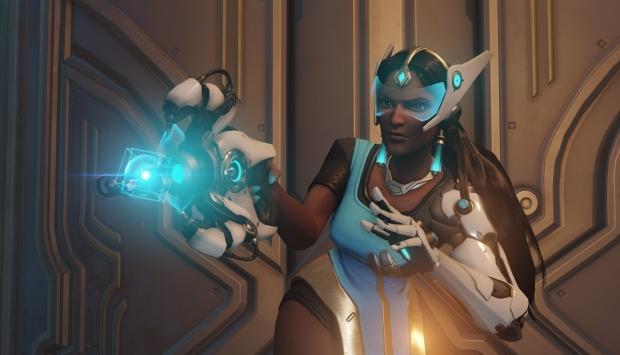 Lastly, all of her turrets can be set up at once instead of in stages, the cooldown has been reduced from 12 seconds to 10, and her gun range has been extended slightly.
Kaplan says Symmetra 2.0 will go live on the Public Test Realm (PTR) soon, as well as new map Oasis, so keep an eye out (I'd bet today or next Tuesday).
Update: Symmetra is available now on the PTR.
Related Tags