NVIDIA bundles Gears of War 4 with GTX 1080 and 1070s
NVIDIA announces its new 'Never Fight Alone' GTX 1070 and GTX 1080 PC game bundles.
Published
1 minute & 47 seconds read time
NVIDIA is giving away a free copy of Gears of War 4 with its higher-end GeForce GTX 10-series GPUs.
For a limited time, if you buy an NVIDIA GeForce GTX 1080, GTX 1070, or a notebook rocking either GPU, you'll get a free PC copy of Gears of War 4. Microsoft has confirmed that Gears of War 4 supports a huge plethora of enthusiast-level features like 4K resolution, 21:9 aspect ratios, performance bumps with DirectX 12, unlocked frame rates, a massive helping of tweakable settings, FreeSync and G-Sync support, and more. In order to leverage the game's full potential and play Gears of War 4 in 4K, Microsoft recommends a GeForce GTX 1080. Sadly the GeForce GTX 1060 isn't included in the promotion.
Oddly enough, we have reports that a single GeForce GTX 1080 isn't enough to run Gears of War 4 in 4K at "Insane" graphics, but the GTX 1080 handled 1440p 60FPS just fine in the same Insane preset.
"We've completely parallelized the rendering system, meaning we're utilizing and running more CPU cores. One big focus we had was to lower the simulation cost to give headroom for the GPU. A lot of games out there have monster GPU but get framelocked because you're CPU bound. There's a huge upper range we support with what we've done," Gears 4's Technical Director Mike Raynor told Ars Technica.
Click here to find which retailers are participating in the bundle nearest you. The free PC copy included with the bundle also supports Microsoft's Play Anywhere functionality, which means you can play the same copy on an Xbox One free of charge.
Gears of War 4 launches on October 11, 2016 on Xbox One and Windows 10 PCs.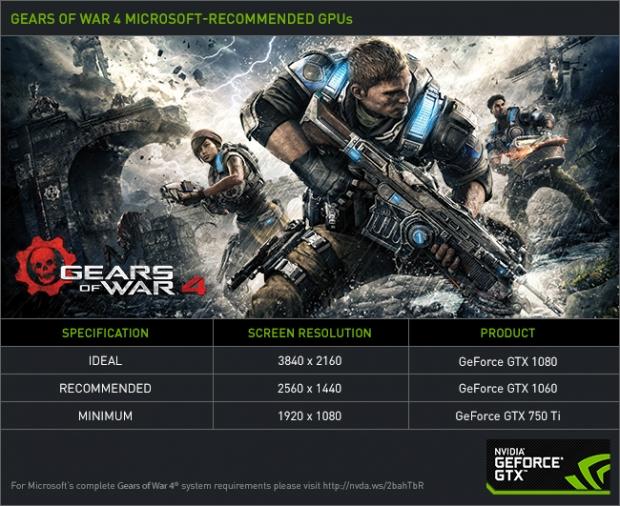 Related Tags