Deus Ex: Mankind Divided will have eye tracking technology for the PC version of the game, courtesy of Tobii's EyeX technology, according to Square Enix and Eidos Montreal. Here's what to expect from the eye tracking tech: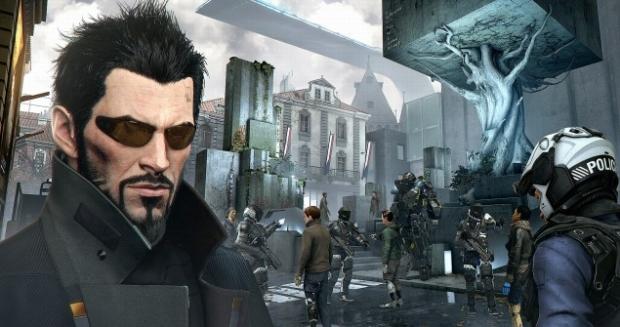 Aim at Gaze - Look at the target to take aim, then press a button and fire. This feature let players take out enemies using their natural gaze and will even work when locking the tesla gun for all-out mayhem.
Extended View- Look to the edge of the screen and the game's camera will pan - giving players a wider field of view with just a glance. The natural eye movement will allow further immersion into the game's environment and let players control what they want to see - just as in real life.
Icarus Dash at gaze - Simply look in the direction you want Adam to move in - even vertically. This will allow players you use the controls in a more fluid manner.
Interact at gaze - This feature lets players move effortlessly using the natural gaze to intuitively interact with objects. Look at an object, press a button and automatically move towards it before picking it up.
Clean UI - This feature lets player access UI info only when needed, giving them deeper immersion into the game's environment. Look and they'll appear. Look away, they'll become nearly transparent. The screen is always covered fully in the game's world, with the vital stats just a glance away. Helps you embrace the game's environment. Helps players keep track of what you need to -when they need to.
Cover at Gaze - This feature lets players find refuge when the heat is on just by gazing across the environment - highlighting places you can hide behind. (Not available on August 23, this feature will be available in an upcoming update.)
Tobii Tech president Oscar Werner talked about his company's technology getting inside of Deus Ex: Mankind Divided, where he said: "The commitment by Eidos Montréal and Square Enix to bring eye tracking to the mega Deus Ex franchise is another demonstration of the industry's belief in the value of eye tracking. We applaud the team at Eidos Montréal for their forward thinking approach and drive to give their gamers more".
Executive Brand Director for Eidos Montreal, Andre Vu said: "With the Deus Ex franchise being a window to the future, we always try to provide innovative, ground-breaking experiences for our players. The numerous Tobii eye tracking features built into the game will provide PC gamers an extra layer of immersion that blends perfectly with the futuristic universe depicted in Deus Ex".
Tobii EyeX costs $169, and if you buy it from Tobii's website, you get a copy of Deus Ex: Mankind Divided for free!