We all know someone who has been playing Pokemon GO obsessively over the last month, but it comes as a huge shock that Niantic has pulled in a mammoth $200 million in its first month with Pokemon GO.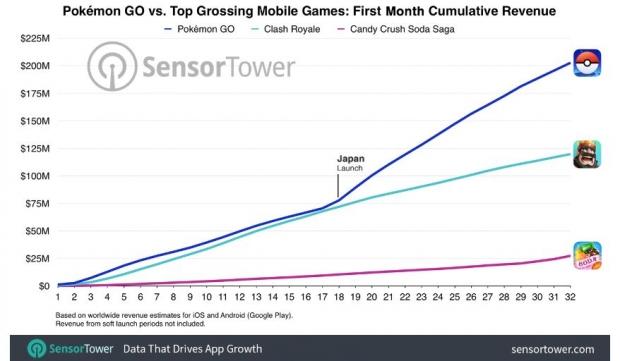 Thanks to a chart from Sensor Tower, we can compare it against Clash Royale and Candy Crush Soda Saga, which both made immense amounts of month in their first month of release, but they simply can't compete with the numbers that Niantic is throwing out.
Things get better for Niantic with the $200 million made up from worldwide iOS and Android revenue, and even more money is being made from microtransactions and deals signed with McDonalds in Japan, and others that haven't been announced yet.
We already know that Pokemon GO became the most downloaded app in Apple history, which is another gold star for Niantic, The Pokemon Company and Nintendo. How are the profits being split, though? Well, that's not something that's known - but Google and Apple do take a 30% slice of the revenue being generated on both the Google Play Store and iTunes Store.