No Man's Sky art reimagined as sci-fi book covers
'I want gamers to feel as if they've stepped into an old sci-fi book cover every time they play No Man's Sky.'

Published Wed, Jul 13 2016 8:21 AM CDT
|
Updated Tue, Nov 3 2020 11:59 AM CST
There's magic in old-school sci-fi book covers. Even if you didn't grow up in the '70s and '80s you can still appreciate the wonder and splendor that artists like John Berkey and Ralph McQuarrie unfolded before our eyes: the covers spoke of fanciful treks across exotic universes, of strange and exciting tales of derring-do, aliens, advanced tech, and infinite possibilities. In this respect, No Man's Sky--Hello Games' ambitious indie about exploring an infinitesimal universe--is a lot like like a sci-fi book cover, and it's only fitting that the game gets its own series of mock covers.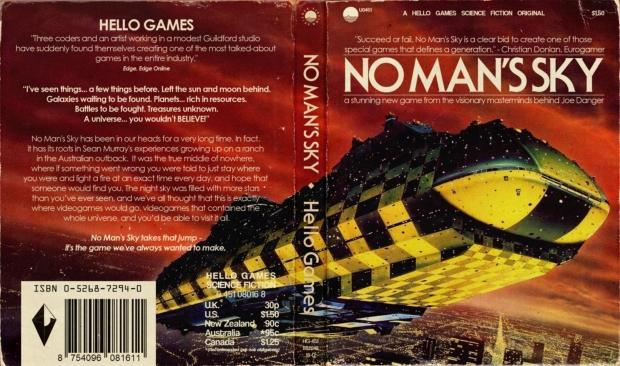 This artwork actually links to an interesting thing that the devs said about the game: Sean Murray told IGN that he wants gamers to "feel as if they've stepped into an old sci-fi book cover" every time they play No Man's Sky. So these mock-ups actually resonate quite strongly with the developer's own goals for the in-game experience.
"I've said it before, but No Man's Sky is the hardest thing I've ever worked on. It's even bigger than you can imagine. This is a type of game that hasn't been attempted before, by a smaller team than anyone would expect, under an intense amount of expectation,"Hello Games head Sean Murray said in a recent blog post.
No Man's Sky has officially been finished, and drops in less than a month on August 9, 2016 on PS4 and PC. Be sure to catch up on your knowledge with our massive list of everything you can do in No Man's Sky.
Related Tags