I still know dozens of people who are waiting on their Oculus Rift pre-orders from January to ship out, but Amazon says you can have the $599 VR headset in your hands by tomorrow.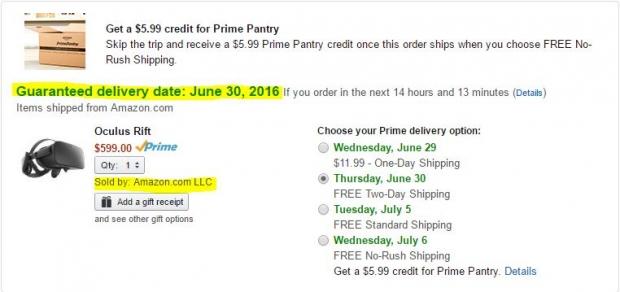 The Virtual Reality group on Facebook just made us wise to the Oculus Rift's new availability on Amazon. Although we're unsure what kind of quantities we're looking at, the Rift is being sold by Amazon directly, not a shifty 3rd party. I even successfully added it to my cart and had the option of selecting next-day shipping. Hopefully the stock is plentiful, as HTC is now shipping all Vive headsets worldwide within 72 hours.
Oculus continues to seep into retail at locations like Best Buy and e-tailers like Amazon, and while that's fantastic for the brand's exposure and for those curious about VR (or just craving it right now), we really wish the company would ship out pre-orders from 6 months ago first.