When the fine folks at Volition and Deep Silver scheduled me for a hands-on appointment with an "unannounced game" at E3, my heart started racing. "Saints Row V! Saints Row V" I shrieked to no one in particular. I even got my wife's hopes up. She's played through Saints Row IV about four times at this point and believe me when I say that's a testament to how ridiculously fun that game is. As you know, that unannounced game wasn't the latest insane adventures of the Third Street Saints, but an entirely new IP called Agents of Mayhem. I'll be honest: I was disappointed. But after 30 minutes with Volition's latest romp, I've done a complete 180.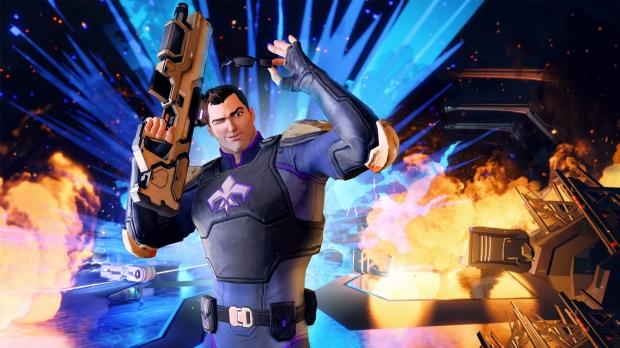 AHOY Motherf***ers!
If you had any concerns about the irreverent and bombastic Saints Row DNA disappearing because Volition's developed a new IP, you probably haven't seen the Agents of Mayhem trailer. Aside from the game being set in the larger Saints Row universe, believe me when I tell you that Volition's "secret sauce" is simmered to perfection here. 3rd person, over the top action? Check. Amoral characters with big personalities? Check. Plenty of colorful language and downright wacky scenarios? Check.
Agents of Mayhem takes place in an open world Seoul, Korea and follows the exploits of M.A.Y.H.E.M. (Multination Agency For Hunting Evil Masterminds) in their attempt to assemble the best damn heroes on the planet. Why? Because they have to stop L.E.G.I.O.N. (that's obviously the League of Evil Gentlemen Intent on Obliterating Nations) of course.
Collateral Damage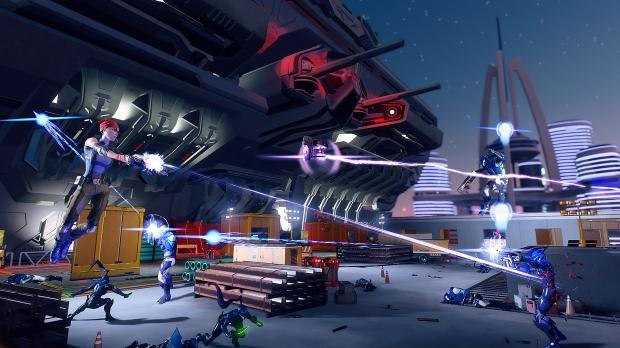 The core gameplay in Agents of Mayhem is rooted in battling the evil masterminds and their 1000s of minions with a squad of 3 superheroes. You choose 3 out of a total of 12, and can swap between them instantly during gameplay. I rolled out with Fortune, a fast dual-wielding woman dressed like a pirate; Hardtack, basically a walking tank with a shotgun, and Hollywood, a wise-cracking, egotistical "assault" type who seems to draw heavy inspiration from Mortal Kombat's Johnny Cage.
Each agent has their own "Mayhem" ability that can be charged up and unleashed fairly often, and the joy of moment-to-moment gameplay, at least for me, was charging them all up, then rapidly switching between them and unleashing absolute hell. For example, you can trigger Fortune's ability -- a drone that electrocutes and stuns all nearby enemies -- and then switch over the Hollywood, who puts on his sunglasses like the cocky son of a bitch he is, and then turns the entire stage into an action movie set (for a satisfying length of time), littered with deadly explosions.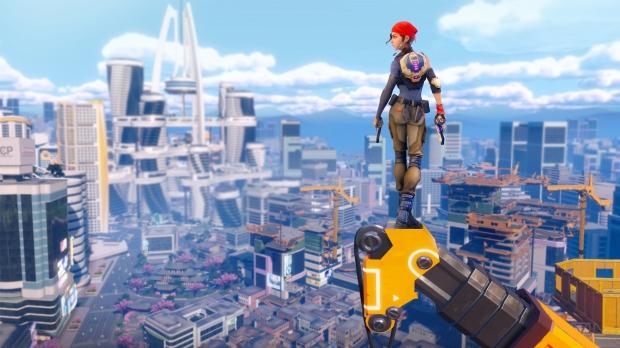 If I recall correctly, each agent only has one primary weapon which compliments their "type" (assassin, assault, tank, etc), but they can also utilize melee attacks and projectiles. My only complaint about the actual gunplay is that, while it felt great and looked infinitely better than Saints Row, it felt a bit "floaty" without a keyboard and mouse, though I'm sure we can fine tune gamepad controls in the final release.
AoM is also dripping with nostalgia and pop culture references, evident in the transition scenes between chapters, where Volition presents us with a "Previously On Agents of Mayhem" cartoon which is ripped straight from the 80s! And during gameplay, your agents will take every opportunity to bust out quips and one-liners, all of which change depending on the character you have selected at any given moment.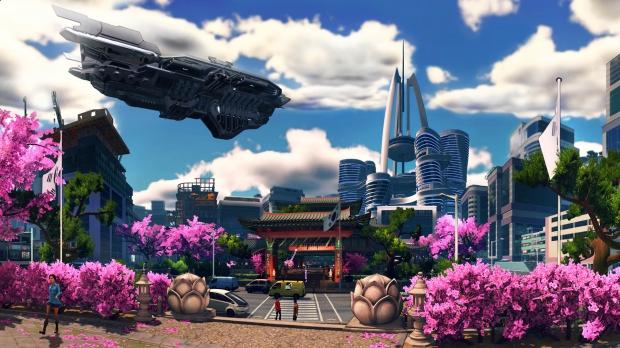 With 12 total agents in the box, and what seems like a deep progressions system and talent tree for each, I could already envision myself playing through the game with 3 or 4 mains, then replaying with a completely different cast.
What I played was just a slice, and Volition can still do some tuning of the aiming and gunplay, but given that the game is currently set for a 2017 release, there's plenty of time to make what already feels like a fantastic game even better. So far, Agents of Mayhem is just plain fun, with characters and situations that build on Volition's experience with Saints Row.
Keep an eye on this one!