Battlefield 1's new gameplay trailer shows epic WW1 chaos
EA drops a helping of cataclysmic Battlefield 1 gameplay and promises 'no battle will ever be the same.'

Published Sun, Jun 12 2016 4:37 PM CDT
|
Updated Tue, Nov 3 2020 11:59 AM CST
E3 2016 - DICE showed off a brand new explosive gameplay trailer for Battlefield 1 at E3, delivering even more authentic Great War carnage with aerial combat, insane firefights, and dynamic weather that ensures no battle is ever the same.
The latest Battlefield 1 footage showcases the game's incredibly dynamic warscapes, with ultra-destructible environments and brutal explosions there's this distinct feeling of danger at every turn. What's more is the trailer shows everything without HUDs, giving an increasingly loose feel that mirrors the technics of the times--no auto-aim or aim-assist will be included in this game. Just your wits, luck, and skill as you take on some of the most epic battles in World War I history. Oh, you'll even be able to reign down explosive chaos in the skies atop a zeppelin.
"In Battlefield 1, we engage in some of the biggest battles you've ever seen, with multiplayer matches with up to 64 players. Through the power of Frostbite, intuitive destruction, dynamic weather, and a variety of weapons makes this the most immersive Battlefield game ever. In Battlefield 1, destruction is more intuitive than ever, this creates unlimited gameplay possibilities to impact the world around you," said DICE's Patrick Bach.
Bach goes on to explain exactly how "no battle will ever be the same," citing major immersion improvements like dynamic weather and hulking new "behemoth" vehicles like zeppelins in the air, tanks on the ground, and warships at sea. "Weather will change unpredictably, and you will need to adjust your tactics based on the weather conditions. So playing in rain and heavy fog will impact what you see and hear, so you have to adapt your playstyle," Bach continued.
"And finally, most notable is the introduction of the behemoths. The Great War gave birth to some of the largest vehicles ever made, and Battlefield 1 gives you the chance to control these beasts. Take the battle to your enemies in an airship, an armored train, or a warship that offers war on land, sea and air."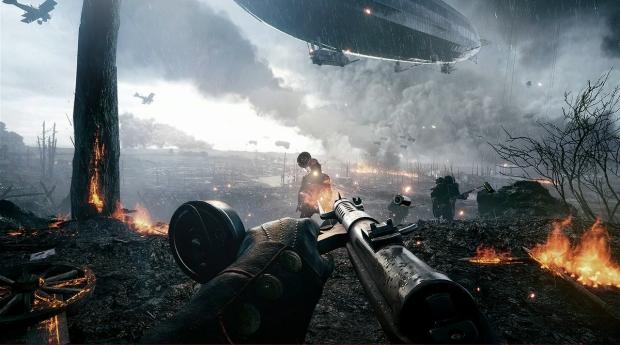 EA plans to launch an open beta for Battlefield 1 later this summer, but you'll want to sign up as a Battlefield Insider to get early access.
Battlefield 1 releases on October 28, 2016 on PC, PS4 and Xbox One. Check below for a massive list of everything we know about the game so far.
Related Tags