Computex 2016 - QNAP always impress when it comes to NAS systems, with their product line being on show at Computex 2016 once again. The company was showing off their new NAS systems powered by Intel's new 6th generation Core i3/i5/i7 processors, as well as the next-gen TVS-x82T Thunderbolt 2-powered NAS.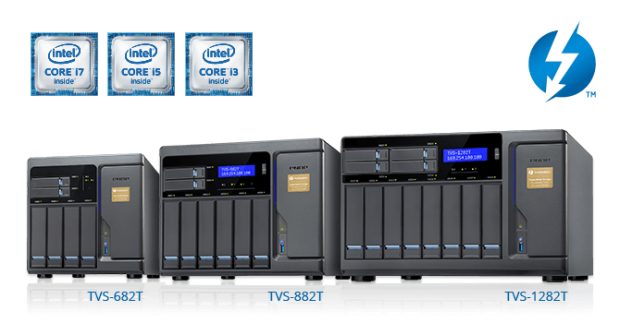 The new TVS-x82T line of NAS systems include SATA M.2 SSD and 2.5-inch SSD cache abilities, something that will super-charge your video editing speeds with up to 20Gbps of bandwidth available - enough to handle multiple 4K video transfers, and displays. Nerd alert! The new TVS-x82T lineup comes in 4-, 6-, and even 8-bay solutions depending on your needs.
Then we have the new quad-core TS-831X which offers a "powerful yet affordable NAS solution with two built-in 10GbE SFP+ ports to accelerate applications that require a fast, high-bandwidth and reliable NAS, including intensive data transmission, video storage, streaming and editing". QNAP adds that studios can use the 10GbE storage solution "at a budget price, create a centralized file center for storage, backup and sharing with the rich native apps, and rely on the NAS scalability to accommodate increasing amounts of media files".