New Titanfall 2 leaks pinpoint a release month, along with a number of new unique features including a grappling hook operator ability.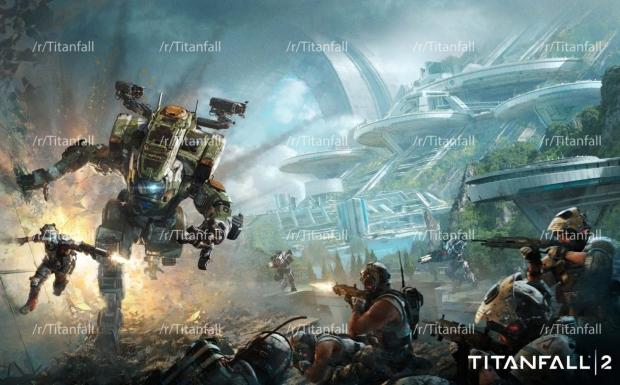 A Redditor has leaked a bunch of Titanfall 2 info including release dates, box art (the left half of the pic above), gameplay features and map content. Titanfall 2 will launch on October according to the leaks, which aligns perfectly with EA's Q3 2016 release window. The sequel will also feature a "ton" of new pilot abilities including a grappling hook that can be "extensively used" by Titan operators, and players will be able to string together tactical combos using the grappling hook such as "pulling enemies while they're in midair".
The leaks also revealed Titanfall 2's multiplayer maps are much more expansive than the first game, suggesting that the player count will be boosted as well. There was no mention of the new Titan swords or the game's "grounded and dirty" singleplayer campaign, so we'll have to wait for the official E3 2016 reveal in June. The Reddit leaks have since been deleted, but you can still find them via a Google web cache.
"I've been sitting on some Titanfall 2 information that was shared with me, and I've finally got the go ahead to post. Titanfall 2 will release in October and the Mountain Dew leak is indeed legitimate. They've added a ton of new pilot abilities including the addition of a grappling hook. My source said you can use it quite extensively, for getting into your Titan, aiding free-running, or tactical plays such as pulling enemies while they're midair. The pre-order bonus will be a handgun called the Violator. Multiplayer maps are bigger which I can assume they upped the player count to go along with them," reads the Reddit leaks.