Battlefield devs rip the latest Call of Duty: Infinite Warfare trailer, affirming the Battlefield 5 reveal footage will blow it away.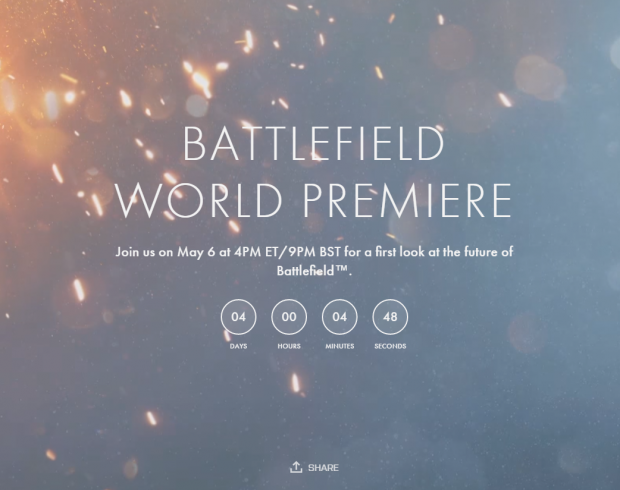 So far the reactions to Activision's latest Call of Duty game are mixed at best, and the competition at DICE have stepped in to poke fun at the footage. "Today I watched the new COD trailer. How quaint! Those cute little free-cam shots, precious 2010 graphics and grade school editing! Quaint!" said DICE dev Roland Smedberg in a deleted Tweet. Smedberg went on to criticize the "ugly" depth of field lighting, and promised that Friday's Battlefield 5 reveal video will be so good in comparison that the "internet will melt".
Perhaps the most hilarious (or harsh) bit was when DICE dev Randy Evans said that Infinite Warfare "looks like a game from 10 years ago." Evans, who is working on the Battlefield 5 trailer, echoed Smedberg's boasts by saying "the internet is gonna crumble!" once the BF5 footage launches. Even DICE's Julian Manolov chimed in by saying "3 and a half minutes of CGI...anyone got a link which shows the actual game?"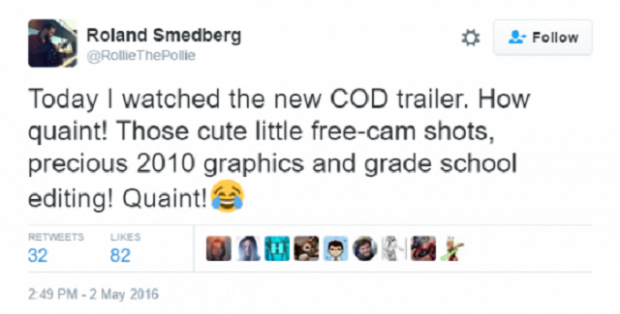 Honestly, the devs have a point. Besides the space scenes, Infinite Warfare's footage was more of the same, and failed to really distinguish itself. I'd like to have seen more interplanetary action since that's such a huge part of the game, and the experience actually sounds better on paper. Many fans are saying that Infinite Warfare is just a vehicle for the anticipated Modern Warfare Remastered, especially since the remaster won't be sold separately.
In any case, we'll be sure to keep you updated when Battlefield 5 explodes on the internet this Friday. Based on DICE's track record, I'd say this one will be quite amazing.