Battlefield 5's world premiere set for May 6
Battlefield 5 reportedly set in World War II era, with a reveal coming next week.

Published Fri, Apr 29 2016 9:19 AM CDT
|
Updated Tue, Nov 3 2020 12:00 PM CST
Battlefield 5, which is reportedly set in the World War II era, will see its world premiere on Friday, May 6.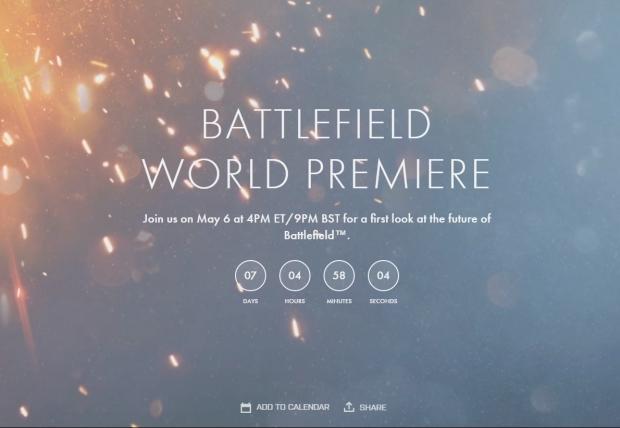 Multiple German sites like Play3.de claim Battlefield 5 will be unveiled on Friday, May 6: "The future of Battlefield is coming up and you are invited to the world premiere. On May 6, we will reveal the next milestone in the Battlefield franchise. Come and meet our creative team at DICE. See the trailer before it's revealed online, get a peek at additional content that will not be released online and go behind the scenes aby attending a developer panel. After the presentation wraps, you're welcome to stay for cocktails and a group screening of the World Premiere on Twitch live from London."
reads the invite found on Battlefieldforum.net.
This will likely be a closed reveal for the press, but PCGames.de says that EA will live stream the Battlefield 5 reveal on Twitch, and multiple publications will post up their NDA'd preview impressions. EA is also expected to launch a Battlefield 5 teaser today, according to industry insider Shinobi602.
According to a massive leak on Reddit, Battlefield 5 will be called "Eastern Front" and will take place during World War II. A DLC timeline was shown in the leak, suggesting that Eastern Front could just be one of the DLC packs for the base Battlefield 5, considering other DLCs jumped to different time periods and settings. The leak also suggests Battlefield 5: Eastern Front will release on December 6, 2016.
The May 6 reveal clashes with the pre-E3 June 12 announcement shown in the Reddit leak, but considering how many sites are voicing the May 6 reveal, this could be accurate. We'll probably see world premiere gameplay footage at E3 2016, following global pre-orders opening up.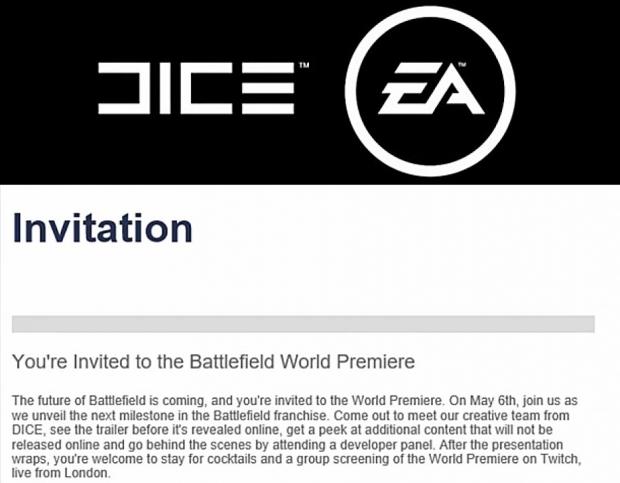 Related Tags