We all know the iPhone doesn't have expandable storage, but that doesn't stop companies like SanDisk thinking outside of the square with its new iXpand Flash Drive.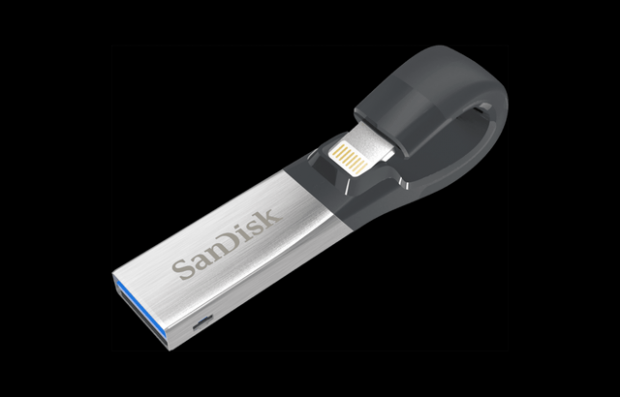 SanDisk's new iXpand Flash Drive is a flash drive that will ensure you'll never run out of space on your iPhone. It's a small, great looking dongle that expands the storage on your iPhone. It does this by featuring a flexible, fold-out Lightning port that will fit into "most" hard and soft cases.
When used with the SanDisk iXpand Drive app, which has been "completely redesigned" from feedback, pictures and videos you take on your iPhone will be saved to the iXpand by default, instead of your iPhone. SanDisk has also included a USB 3.0 connector to transfer your pictures, videos or music to your PC - which also lets you do things you can't do on your iPhone normally, like cut/copy/paste/deleting files onto your SanDisk iXpand Flash Drive.
You can also playback media files from your iPhone or iXpand, and use SanDisk's built-in encryption software to put password protection on them. SanDisk hasn't stopped there, as you can share images and videos directly to Facebook, Twitter and other social media networks.
SanDisk is selling the new iXpand in 16GB ($49.99), 32GB ($69.99), and 64GB ($89.99), and 128GB ($129.99). They're compatible with most iOS-based devices like the iPhone, iPad, iPad Air 2, and the new iPad Pro. You'll need a Lightning port-based iDevice, with SanDisk selling the new iXpand Flash Drive through BestBuy, Amazon and SanDisk's own website, right now.