Castle smashing alpha testing begins for Crowfall's Castle Siege mode
Crowfall, an upcoming PvP focused MMORPG, has just entered their second pre-alpha letting you destroy whole entire castles in-game.
Published Wed, Apr 13 2016 11:18 AM CDT
|
Updated Tue, Nov 3 2020 12:00 PM CST
Castle defense just got a bit more serious, and realistic, with the latest alpha-test of Crowfall. ArtCraft has just announced that they're starting some external testing of their Castle Siege mode in their newest game, where you get the chance to topple castles.
Crowfall is an up and coming MMORPG that takes a bit of a different approach than some others. It's heavily focused on PvP and they even have a castle siege mode where you can literally destroy another persons castle, with real-time, server-side physics, to give one spectacular show of death, destruction and rubble. This is real castle defense, not that 2D isometric stuff that's popular, and addictive, with mobile games.
Right now the pre-alpha test 2.0 is a very closed test with only a few participats that get to square off as one of two factions that'll be in the final game, the Chaos or the Order. Right now they have five of Crowfall's eventual 13 archetypes will be available to players in this round of testing: Champion, Confessor, Knight, Legionnaire and the recently-added Ranger.
They're incredibly excited about this test, because it represents something kind of amazing for MMO's, and is a big step towards realizing their own goals. "This is an incredibly exciting milestone for us," said J. Todd Coleman, ArtCraft co-founder and Crowfall's creative director. "Our previous tests centered on PvP combat, which is obviously critical to our game but not unique to the market. Our physics-based castle siege system marks the point where Crowfall starts to separate from the other games available in the market."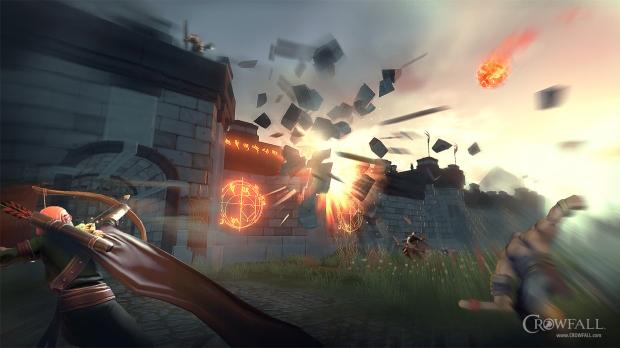 Related Tags