AMD's next generation Zen is still quite a ways off from being a reality in desktops or mobile products, but it look like their more mainstream series of mobile products based off of their 28nm Excavator core, codenamed Bristol Ridge, has been spotted in Geekbenches database. The results seem to point towards a slight improvement in performance, given the reported CPU frequencies.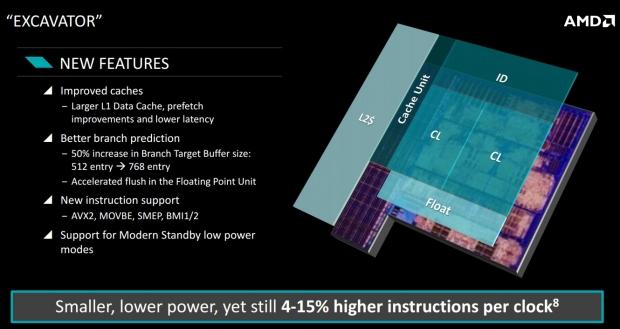 The sample is the AMD FX 9800P installed in a Lenovo device of some kind. This particular chip has been rumored to have 4 28nm Excavator based cores that run at a nominal 2.7GHz with 8 GCN 1.2 compute units attached. Here, though, it's recorded as running at 1.85GHz and has a multi-cor score of 5596, which is on-par with an Intel i5-6200U running at 2.4GHz. That's not too shabby if the reported clock frequencies are correct.
You can also find scores for the A10-9600P and the A12-9700P in what could possibly be upcoming Lenovo laptops or test systems on the Geekbench website. Bristol Ridge will be the mainstream Excavator based APU's available both on the new AM4 socket as well as on mobile through the FP4 interface. There's no real difference between this and Carrizo aside from naming scheme and the switch to allow DDR4 instead of strictly DDR3. Otherwise, the corresponding A[x]-8xxx Carrizo SoC is virtually the same. The power-savings from moving to 28nm should prove advantageous, however. This will be a sort of stop-gap between Zen, which is still due sometime this summer, or so we hope.