AMD's FirePro S9300 X2 brings dual Fiji to the HPC market
AMD just announced the availability of their dual Fiji-based FirePro S9300 X2 for the HPC market, with 13.5TFLOPs of compute being passively cooled.
Published Thu, Mar 31 2016 11:07 AM CDT
|
Updated Tue, Nov 3 2020 12:00 PM CST
AMD is readying the more professional and scientific oriented version of the dual Fiji Radeon Pro Duo; the FirePro S9300 X2. This is the first time we're seeing Fiji in a professional capacity such as this.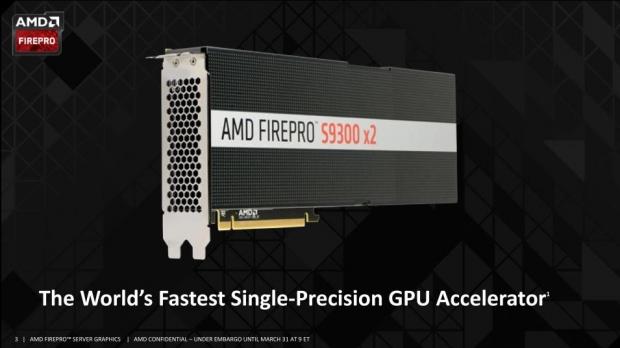 The dual Fiji-based card mirrors nearly every aspect of the consumer (arguably still professional) focused card except that the TDP has been reworked to have a maximum of 300W, now running each GPU at a modest 850MHz. The FirePro is also trading in the great cooling solution for a passive method of keeping the card cool. It's designed to fit into any number of HPC compute applications, where a large water-cooling solution may not always fit properly. And for the 300W TDP, it still manages to be a startlingly powerful card with up to 13.9 TFLOPs of compute power at its disposal. It can potentially be a very powerful card in the right situations.
Fiji presents an interesting choice for the scientific market. The FP64 performance of Fiji is significantly lower by nature of being limited to 1/16th of the FP32 performance. That performance is only really significant for those applications that make use of double precision math, which is selective at best. The great thing is that AMD seems to have found its niche, regardless of that limitation. The higher memory bandwidth afforded by HBM might also be appreciated in these applications as well, even though it also lacks ECC RAM as well.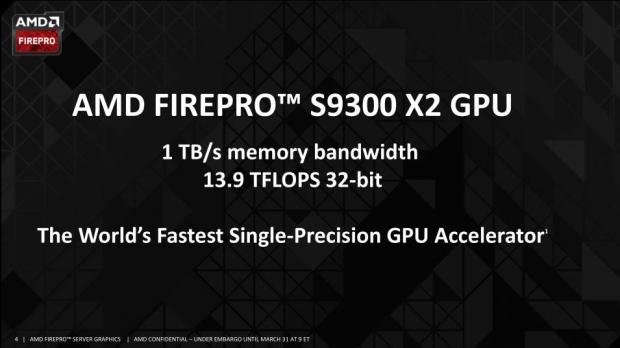 Interestingly a lot of deep neural network API's at the moment don't actually make use of the higher precision math, but actually process data using FP16 at the moment, which is well suited to the FirePro S9300 X2 with it's performance at that level equal to its performance at FP32. The native ability of Fiji to store those data types might also similarly help to increase performance.
The new card is being offered for $5999 and has specifications that are magnificent on paper, if not in actuality. The card comes at a time where it can take advantage of the tools offered by the Radeon Open Compute Platform to be more efficient and a much more attractive option. You'll have the ability to convert 90% of your CUDA automatically to C++ with their new tools, to run that, OpenCL, OpenMP, C++ Amp and even C++ straight on the GPU. It's an exciting time for HPC and compute.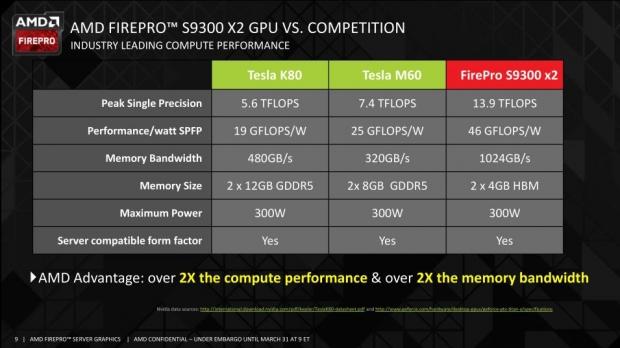 Related Tags