Virtual reality is a making a strong comeback after being on hiatus from consumers for nearly 20 years. But the technology that's being developed for consumers is having some surprising innovative uses in the medical field too, one of those being the ability to help rehabilitate stroke patients just as quickly as traditional methods, but at far less cost to the patient.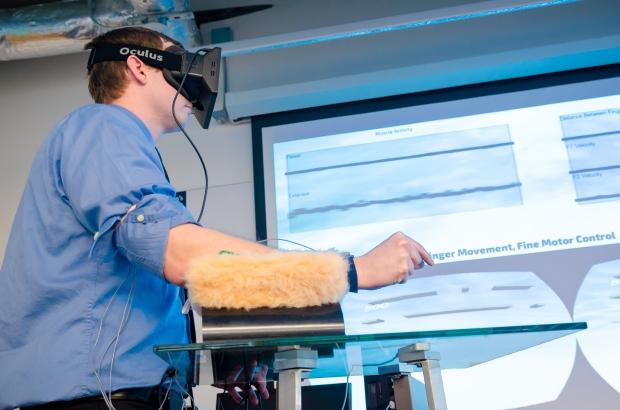 That's an important consideration when in a part of the world where medical costs, and any resultant costs the occur due to that treatment, isn't part of a free program. Rehabilitation is a specialized activity that can also be quite tedious and immensely difficult when looked at head-on. But new advancements in the use of VR world's can help to make rehab a much easier to digest activity, one that could even be seen as being a fun activity, too.
Researchers from the University of Toronto have successfully shown that the Wii U is a better tool for improving motor functions after a stroke or similar brain injury. They took a 10 individuals and had them play on the Wii and 10 others that did normal rehabilitation activities, such as playing Jenga apparently. The Wii group was able to complete a motor function test 7% better than those that didn't play on the Wii. That's statistically awesome. It's not quite VR, but it's an interactive and immersive technology is a natural starting point to further, true, VR avenues.
Other methods are being looked into that might take advantage of the natural motion and interactivity that VR presents. A study from 2012 had patients using a VR system to interact with a virtual world, exercising their motor functions in a safe environment. They used games that had them moving their arms to grab at objects in front of them. They found that it was effective depending on the VR system used. It needs to have accurate hand and head tracking, but then it's very beneficial.

Yet another study from 2013 was able to show that conducting arm motor rehabilitation within a virtual environment had some significant advantages over not using those methods. They used a VR simulation that had their patients practicing precision motor skills, reaching to grasp things and other arm movements, and noticed a distinct increase in range of motion compared to the control group. Just imagine how much harder it is to grab something that isn't quite physically there, even if there were some sort of haptic feedback. It could force you to work harder to succeed, potentially shortening your recovery time, if the proper effort is exerted. It could also do the opposite and be slightly offputting due to the difficulty involved.
VR isn't just for playing games and transporting ourselves into strange new world's, the technology has positive implications in all facets of life. Medical especially. Even for those that are unable to travel due to life-threatening illnesses, the ability to bring a tropical destination into their world could be tremendously therapeutic. Therapy of all kinds could benefit from virtual world's like this. VR, then, is important not just from the gaming aspect, but also because of myriad other possibilities it presents.