A new survey from EA may have given away some particulars about the story for Mass Effect: Andromeda, and it might have something to do with colonialism if the contents of the survey actually hold true. Let us all read these with caution, however.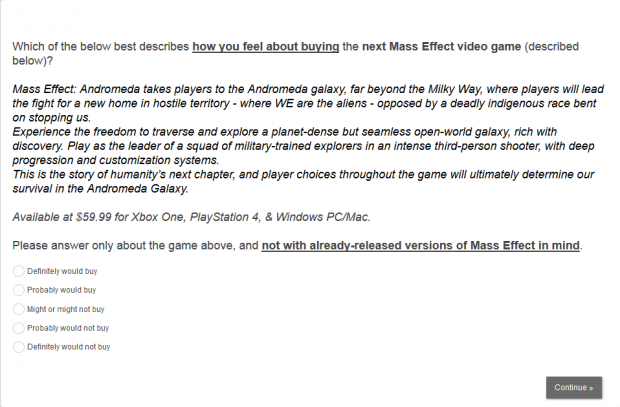 The survey is one that's being made available online to users for what they're noting could be a possible future and direction for the series. This could either be a way to gauge interest for the present game they're working on, or to help decide the direction of a new series of games based on the same protagonist. Colonization of a distant galaxy is exciting in its own right, however.
We don't know very much about what the game is about, aside from that it'll be taking place not in our home galaxy, so seeing additional details, no matter how fleeting, is rather nice. This survey seems to point towards the human race fighting to establish a new home in a new galaxy against an intelligent alien race, though no specifics (obviously) were given. Survey's like these aren't uncommon to actually see if either their ideas are among the most picked or to establish a direction that they intend to take based on the feedback they receive. So it could be true, or it could be a way to establish where they're going next. This type of survey can also be a way to establish the best way to market to various parts of the world as well.